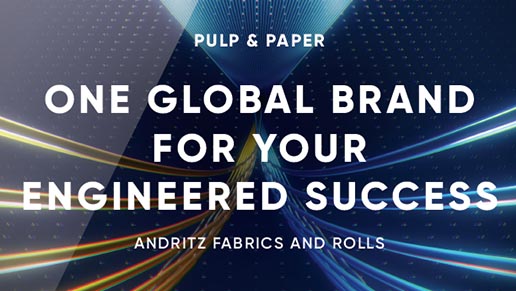 ANDRITZ's largest ever acquisition in terms of transaction volume was finalized in October last year with the purchase of Xerium Technologies Inc., a leading global supplier of consumable products and services for paper, board and tissue producers. Headquartered in North Carolina, USA, Xerium employs around 2,900 people and operates 29 manufacturing facilities worldwide. The company supplies machine clothing, roll covers and related services through well-known industry brands. As a member of the ANDRITZ GROUP, Xerium joins forces with ANDRITZ Kufferath to form a new division in the Pulp & Paper Service segment as "ANDRITZ Fabrics and Rolls."
Xerium gives a major boost to the ANDRITZ service business, which is a strategic focus for the Group. "This acquisition fits squarely with our long-term strategy to execute complementary acquisitions and to grow our aftermarket business as a stable source of sales and earnings," commented ANDRITZ President and CEO Wolfgang Leitner.
Machine clothing products – Xerium's largest business – comprise highly engineered synthetic textile belts that transport the paper web through the machine as it is processed from paper stock into finished paper. Roll cover products envelop the steel cylinders over which the machine clothing runs and between which the paper travels as it is processed. Xerium manufactures, refurbishes and replaces covers for all types of rolls used in paper-making, which can be up to 200 in a typical paper machine. At manufacturing facilities in close proximity to customers, Xerium performs roll cover refurbishment services as well as providing mechanical maintenance and repairs for the rolls.
Xerium has a solid tradition of innovation, having developed much of the latest technology seen in both clothing and roll cover products. Tailored solutions are provided to customers using a broad portfolio of patented and proprietary technologies. The company owns about 450 patents, with around 70 more patent applications pending. Recent innovations include, for instance, SMART Technology, the first continuous pressure-sensing paper machine roll.