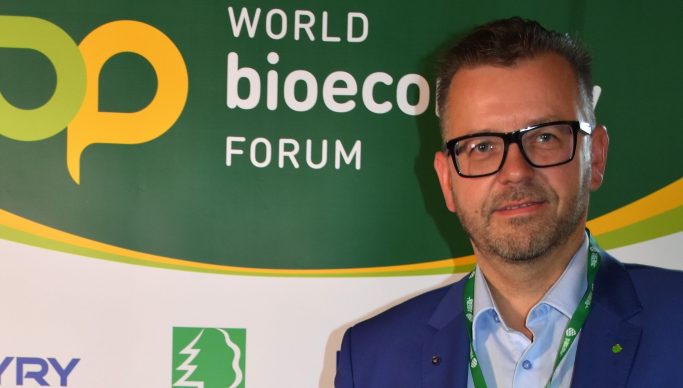 The 3rd edition of the World BioEconomy Forum will take place next September in Ruka. During 3 days, this remote holiday resort in the North-East of Finland will become the "Davos" of sustainability and biostrategy, where prominent figures from the academic and business world will gather.
PaperFIRST interviewed Mr Jukka Kantola, Chairman of the Advisory Board, to tell us more about it. Below is an abstract of the interview. The full version will be published soon in our print editions.
•  Can you remind us how was initiated the first World BioEconomy Forum and who are the organisers?
The foundation for World BioEconomy Forum is based on the idea that there need to be a global platform for Circular Bioeconomy stakeholders to get together, exchange views and come up with a joint agenda on this increasingly important topic. Some three years ago I elaborated this idea with some colleagues and we soon realised that the time is right to launch this new incentive. Work started right away to make it real. The first event was then held in September 2018.
• Why is Ruka a strategic place to gather the global bio-economy community?
As the initial elaboration for the idea was partly discussed in Ruka it was quite natural to have first events there. Ruka, as a holiday resort in Finland, was able to provide pristine environment in the middle of forests for insightful dialog between the parties. Though, we are open to arrange these events in other locations as well. The 2020 forum is in Ruka, but the location for 2021 is not yet decided.
• What does it take to register as a participant or a speaker?
The program planning is conducted by the Advisory Board (AB), which consists of prominent and well-known persons of the circular bioeconomy. The AB is setting frame for the program and annual themes. Once the themes are set there is open call for speakers as well as AB members are browsing good candidates via their own network. So basically, anyone who would have interest in becoming a speaker can contact the core team of the forum displayed in the website www.wcbef.com.
The registration for participants usually starts about 6 months prior to the event itself. The registration forms can be found on the website.