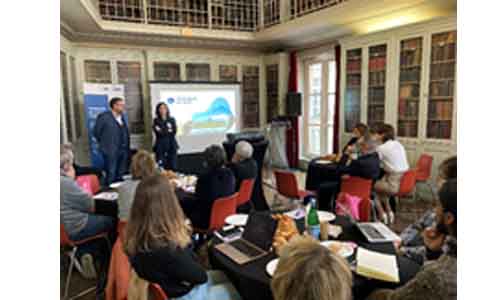 During a press conference in Paris on February 10, BWT France – a subsidiary of the Best Water Technology global group, a European water treatment leader – revealed its objectives for 2026 to accelerate the ecological transition of industry. To strengthen this approach, which has been anticipated for several years, BWT France announced the launch of its Green Chemicals range and presented three biodegradable water treatment solutions that are new to the sector. They are the result of a continuous cycle of innovations at BWT France, and complement those already developed and proven by BWT France customers concerning water, energy and chemical savings.
BWT France presented its 2026 objectives after having achieved those set three years earlier.  Thanks to BWT France's expertise, this strategy is based on three principles: the conservation of water resources, the reduction of energy consumption, and the protection of the natural environment and human resources. This implies taking action on water, energy and chemical consumption. These levers are used to reduce the environmental impact of industries while improving their industrial performance, in line with both CSR and growth objectives.
BWT Expertise: reducing water consumption in industry
Structuring its support strategy for industry around a 4 R strategy (Reduce, Reuse, Recycle, Recover), over 100,000 m³, or the annual water consumption of a town the size of Ramatuelle, were saved in 2022 by its French industrial customers using its solutions and support. This year the goal is to save 250,000 m³, the equivalent of a town the size of Le Touquet. By 2026, BWT France aims to save industrials the consumption of a town the size of Chamonix, i.e. 500,000 m³, an essential objective at a time when water stress is increasing, prompting public authorities to continually regulate water use.
Reducing industrial gas consumption
With its BWT Optivap concept, BWT France also offers its customers energy saving solutions, in particular for industries that use steam boilers. Thanks to optimal upstream water treatment, 5,000 MWh of gas were saved in 2021 and 2022, representing an average reduction of 5 to 7% in gas consumption. In 2026, BWT France aims to increase this figure to an additional 6,500 MWh of gas saved per year in an context that encourages reductions in consumption, thanks to the installation and commissioning of 40 to 50 new installations.
Reducing industrial chemical consumption
With BWT ECO-MX, which has been on the market for more than 12 years, and which is present on 165 sites (including paper mills), 1.6 tonnes of bleach equivalent were saved in 2022. In addition to reducing the impact on discharges thanks to a fresh disinfectant solution produced in place from salt, water and electricity, this process guarantees better staff safety as conventional chemicals are no longer handled. Furthermore, the reduction in transport is another positive external environmental item of interest to industrials wanting to reduce their environmental impact (replacement of IBCs of bleach by big bags of salt that take up less space and have a smaller volume). With 200 machines forecast by 2026, BWT France aims to reduce bleach equivalent consumption by more than 5,000 tonnes per year.
BWT ECO-UV, launched in 2021, is an additional product used to disinfect the water in cooling towers and closed circuit systems using a combination of UV-C radiation and hydrogen peroxide, it allows BWT France to propose an alternative and responsible solution for the disinfection of contaminated industrial water. After having deployed BWT ECO-UV on 10 French industrial sites, BWT France aims to deploy it on 60 industrial sites by 2026, which will result in zero discharges. This new process is in line with the will or need of industrials to eliminate the impact of chemical residues in their industrial discharges, the effects of which can be harmful to the environment but also to the population.
Limiting plastic consumption in industry
Finally, BWT France has already reduced its consumption of plastic by 40 tonnes per year and its CO2 emissions and those of its customers by 65%, and intends to continue those efforts, thanks in particular to its BWT ECO-BAG solution.
Last year, BWT France also announced a partnership with the prestigious Chimie ParisTech – PSL school. This collaboration has made it possible to carry out in-depth research on new scale inhibitors, the results of which are already bearing fruit with the introduction of a pre-formulation tested at Fraicheur de Paris.
Alexandra Sauvêtre, Research & Development Engineer at BWT France in charge of the Green Chemicals project, and Ludovic Lemieux also revealed the first products in the green range (scale prevention, copper corrosion inhibitors and biodispersal agent) with standardised names, officially launching BWT France's biodegradable, non-toxic and phosphorus-free water treatment strategy. These solutions are currently being tested on sites belonging to Fraîcheur de Paris, the City of Paris' urban cooling network operator. After explaining the positive results, BWT France announced their official launch. These solutions will be available in 2023.
Until 2026, when these three-year objectives will be assessed, BWT France continues to consolidate its activities and its growth based on its proven innovations (equipment, formulated products, processes, etc.), while continuing its R&D in its 3 French centres. In addition to this base that defines BWT France, its green chemicals activity will be supported in the coming months with other formulated products that are new to the market, which will be biosourced from plant-based molecules. At the same time, it continues to work with a growing number of industrials to support them in their ecological transition thanks to all its innovations and expertise.