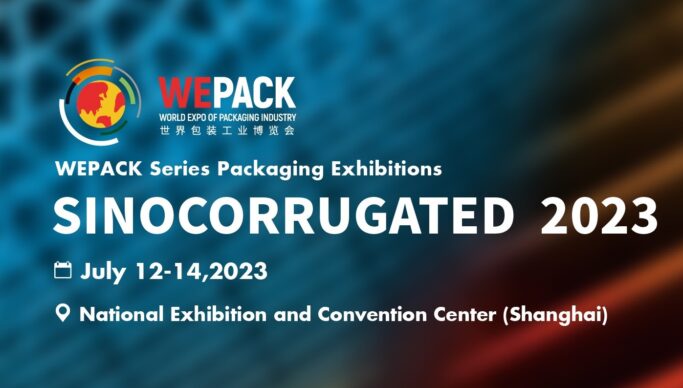 WEPACK 2023, along with its series exhibitions SinoCorrugated 2023, is scheduled to be held on July 12-14 at National Exhibition and Convention Center (Shanghai). WEPACK will emerge as a forward-looking, exploratory and influential super gala that covers the entire industry chain of packaging worldwide together with its seven exhibitions.
Set sail afresh to welcome visitors from home and abroad
As the exhibition organizer, RX(Reed Exhibitions) always prioritizes the health and safety of colleagues in the packaging industry. In order to tide over the shock wave smoothly after China pivoted away from epidemic control policy, the organizer closely follows the policy trend, takes the needs of general customers as the orientation, assesses the situation, and rapidly adjusts the exhibition schedule and venue. Under the premise of ensuring health and safety of participants in the industry and resuming production of manufacturing industry in an orderly manner, WEPACK 2023 and its series exhibitions SinoCorrugated 2023 are formally scheduled to kick off on July 12-14, 2023 at National Convention and Exhibition Center (Shanghai).
The new exhibition venue and new date are arranged for a better reunion. We are grateful to the exhibitors, visitors and partners who have given us company, understanding and patience. We will bear in mind the shared trust and responsibility in the past 20 years. We will continue to keep close contact with the industry suppliers at home and abroad, packaging plants and all walks of life and update the latest news of the industry and exhibitions in time, in hope of presenting an efficient and high-quality gala event in 2023.
New dates in July to trigger more global business opportunities
It is expected that more than 50 associations and 6,000+ overseas visitors from over 110 countries around the world will gather in Shanghai
As the world's second largest economy, China's relaxation of entry and exit restrictions will set off a chain reaction. A large number of overseas enterprises will come and seek business cooperation in China, releasing their blowout demand that has been inhibited for three years. WEPACK 2023 and its series exhibitions SinoCorrugated 2023, as a gala event in the packaging industry worldwide, will serve as a powerful platform for overseas buyers to release purchasing demand and rebuild purchasing channels by then.
Overseas associations, buyers and agencies who have been unable to participate on site due to the COVID-19 pandemic in the past two years are also pleased with the reopening and have proposed to the organizers to schedule the exhibition for July. For example, Corrugated Benelux Association (CBA), Asian Corrugated Case Association (ACCA), and Cámara Argentina de Fabricantes de Cartón Corrugado (CAFCCO), etc. all called the organizer to request that the exhibitions be postponed to July, so that they could have sufficient time to make a series of business travel plans and arrangements for visiting and purchasing in China, so as to participate in the exhibitions at ease and smoothly.
By then, it is expected that more than 50 industry associations and 6,000+ overseas visitors from over 110 countries around the world will gather in Shanghai to participate in the gala event!