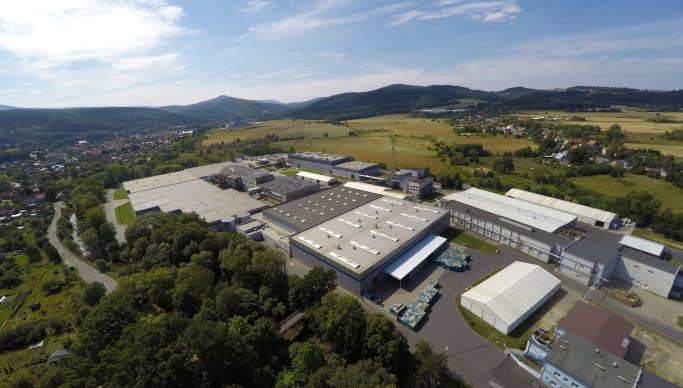 WEPA, the German tissue producer head-quartered in Arnsberg (North Rhine-Westphalia), selected Toscotec to supply a new tissue line on a full turnkey basis for the Piechowice mill in Poland. The project is planned in a short time frame, with start-up set for the third quarter of 2021. This is a repeated turnkey order for WEPA Piechowice mill, where an AHEAD 2.0S machine supplied by Toscotec on a turnkey basis came online in 2017.
The new AHEAD 2.2S machine features a 2750 mm sheet trim width and a design speed of 2200 m/min. It will produce over 40,000 t/y of premium quality tissue mainly for the Away-from-Home market, made of either virgin or deinked pulp (DIP). The AHEAD 2.2S machine is equipped with Toscotec's shoe press technology TT NextPress, a third-generation-design TT SYD, gas-fired hoods with several stages of energy recovery, and an in-line shaft puller at the pope reel. The machine is designed for the implementation of digital technology and advanced control systems supplied by Toscotec and Voith.
The project also includes the complete stock preparation, Toscotec's patented TT SAF (Short Approach Flow) for high operation efficiency, the complete electrical and control system, including the DCS and the QCS and the dust and mist removal systems. The vacuum plant, air compression station, bridge cranes, roll handling and hall ventilation systems complete the turnkey supply.
WEPA also purchased a full-service package including the detailed mill engineering, the plant and the machine erection, commissioning, start-up supervision and training.
Martin Krengel, CEO of WEPA Group said:
 "As in the past, we have great confidence in Toscotec and are convinced that we have the right partner with the latest technology on our side for this project. We continue to trust Toscotec for their commitment to our efficiency and product quality, their operational flexibility and their ability to fully meet our demands."

At the Piechowice site, WEPA produces for the Away-from-Home market. Udo Raumann, Managing Director of WEPA Professional said, "The new line is an investment in our future. We modernise the production site by replacing the existing crepe line with state-of-the-art machinery for tissue production."
Alessandro Mennucci, CEO of Toscotec, commented:
"We are proud of our strong relationship with WEPA, which made our two companies grow together as trusted partners for over 20 years. Just like we did in the past, Toscotec will line up its most advanced technology, know-how and expert team to manage and successfully complete this new turnkey project."