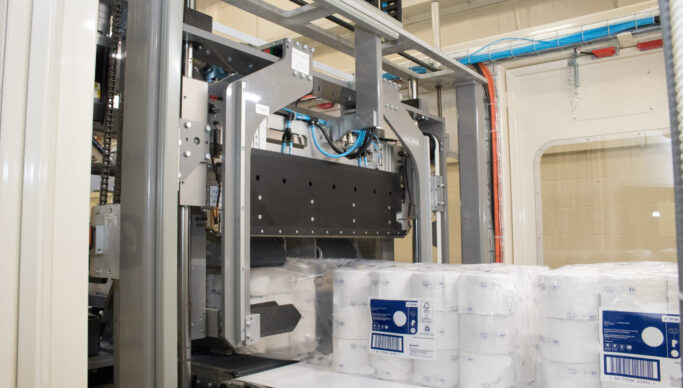 WEPA, a leading tissue product manufacturer in Europe, recently purchased seven machines from Infinity Italia for their facilities in Troyes, (France) Swalmen (Netherlands) and Piechowice (Poland).
Infinity is supplying two Eclipse T4 Wrappers and two i18 Bundlers for WEPA's Troyes facility, one Eclipse T4 Wrapper, and one i18 Bundler for WEPA's facility in Swalmen and in Piechowice, WEPA selected an Infinity C-15 Casepacker for their folded products division.
WEPA was drawn to Infinity's equipment due to its unique combination of American ruggedness and Italian design refinement. The i18 Bundler is a perfect fit for WEPA's facilities as it was designed specifically with European markets in mind. The poly bundler features an integrated diverter and flight bar system for easy product collation, as well as an automatic poly reel splice and poly pull-out cart for safe and quick poly loading. In addition to this, an active vacuum comes standard on the i18 Bundler. Excess air is sucked from the bundles' pre-discharge resulting in a tight, crisp poly wrap.
Echoing WEPA's industry 4.0 efforts, the transaction with Infinity didn't end with the machine purchase. Emulation engineers from Infinity offices traveled to Swalmen and will be traveling to Troyes to provide Virtual reality training to WEPA employees. This included a fully interactive VR machine changeover, which allowed WEPA employees to become familiar with their machines weeks before they arrived at their facilities.
Infinity also equipped the machines with a data collecting and remotely accessible eWON device. This enables WEPA to track production times, faults, and speed. This information will be accessible remotely through email notifications or web browsers. The Troyes facility will also have light annunciation on their i18 Bundlers to provide changeover assistance. The light annunciation illuminates change-over points on the adjustment scales.
WEPA's recent investment reflects Infinity's growing reach in the European market and is further proof Infinity is the global leader in automated tissue paper packaging machinery.