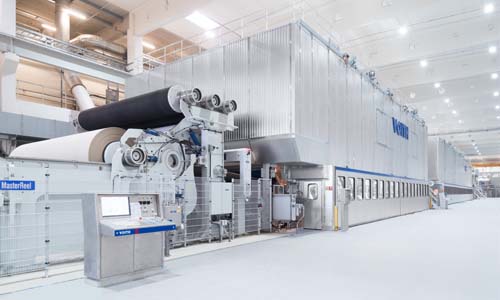 Nine Dragons Paper, the biggest manufacturer of packaging paper in China, has commissioned Voith to build and deliver three XcelLine paper machines for the production of high performancetestliner and white top testliner. The three lineswill further strengthen the paper manufacturer's leading position in the packaging paper segment.
"We are delighted to have received the orders from China's largest packaging paper manufacturer Nine Dragons and we look forward to our renewed collaboration on a partnership basis," says Hanson Zhao, Vice President Sales& ApplicationAsia at Voith Paper.
The planned daily production volume of the three identical paper machines is especially high: approximately2,400 metric tons each, at production speeds of 1,400m/min. In order to meet these requirements, the components must be extremely high–performing and robust. The elaborate former design of the machines, which are equipped with aDuoFormer DII E, allows for the required speed with high basis weights at the same time. The press sections each feature a Triple NipcoFlex press, which ensures excellent surface smoothness of white top liner. Due to the double unwindconfiguration and a fully automated full reel change, the high–performance TwinDrive winder enables fast and efficient winding and thereby ensures a winder capacity that is up to 20 percent higher than conventional unwinding systems.
The commissioning of the machines is planned for 2022and 2023.