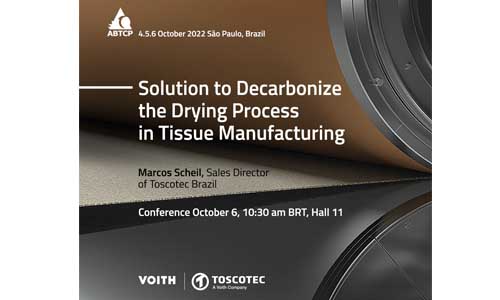 Voith and Toscotec will participate in the 54th ABTCP International Pulp and Paper Exhibition, to be held on October 4–6 at the Transamerica Expo Center, in São Paulo.

The Voith Group's booth will be showcasing the company's innovative solutions to the paper industry and will include the broad portfolio of its subsidiaries Toscotec and BTG.

At 10:30 am on October 6, Sales Director of Toscotec Brazil, Marcos Scheil, will give the lecture "Solution to Decarbonize the Drying Process in Tissue Manufacturing".

Also, Wellington Vieira, Tissue Sales and Applications Manager at Voith Paper South America, will present the poster "New Measurement Technologies Providing In–Depth Analyses of Tissue Pressing Section".

Focused on the topic "Pulp and Paper, Environment, Society, Governance and Automation", the ABTCP International Pulp and Paper Exhibition is an opportunity for exchanging best practices that can help all industry players increase their productivity and efficiency.

For more information on schedules, registration fees and how to participate, visit: https://abtcp2022.org.br/programacao/
Contact for appointments:
Marcos Scheil, Sales Director of Toscotec Brazil, Marcos.Scheil@toscotec.com