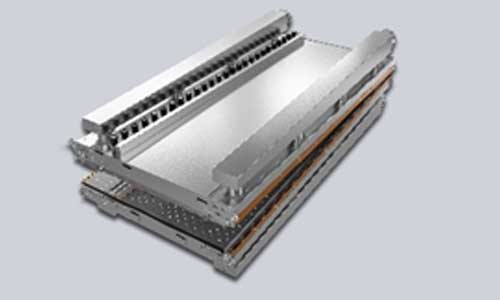 ANDRITZ is offering an innovative solution for improving the sheet moisture properties of sensitive paper grades, especially decor paper – the VIB MoistureTech. This sophisticated technology, in which ANDRITZ is the market leader, enables customers to save fibers and energy.
Special requirements in the production of decor paper
Decor papers are mainly used in the furniture industry for the production of decorative panels.
They are printed with structures or other patterns using rotogravure printing. The paper is then impregnated with resin and pressed onto the wood-based panel. This application places rigorous demands on the paper: high dimensional stability with uniform resin penetration and excellent printability. In addition, high opacity is necessary for sufficient coverage of the carrier material. To achieve excellent printability, high smoothness of the paper surface is required. This can be achieved by soft online calendering with a soft- or multi-nip calender. Due to the high content of resins for wet strength, the paper is completely dry when it leaves the dryer section and must be re-moisturized.
Improved moisture properties of the paper sheet
VIB MoistureTech from ANDRITZ is a system for remoisturizing of sensitive paper grades and was developed specifically for this application. Decor paper is cooled down to 40°C with cooling rolls at the end of the dryer section and then remoisturized with steam. When remoisturizing with steam, two important points must be considered: The steam must be distributed uniformly over the surface of the paper sheet and must also be absolutely droplet-free. Controllable zones for applying steam without droplets guarantee uniform smoothness and gloss profiles of the paper surface, while additional dwell zones ensure maximum efficiency during remoisturizing. The VIB MoistureTech is installed between the dryer section and the calender in vertical or horizontal position and can also be used for remoisturizing and curl control of laminated grades and silicone papers.