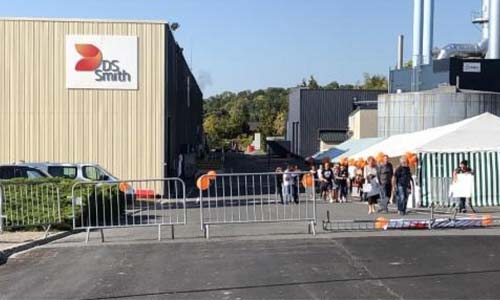 Valmet will supply Valmet IQ Moisturizer system to DS Smith Contoire-Hamel in the Northern part of France. The new system will be installed on DS Smith Contoire-Hamel's paper mill's paper machine PM1. The target of the investment is to improve the moisture profile of the board for better corrugated performance.
The order was included in Valmet's orders received of the fourth quarter 2020. The delivery is scheduled by the middle of April 2021.
"We are very happy to cooperate with DS Smith to further improve the mill's performance with this new delivery. Our experience and results from Valmet IQ's previous installation in the plant was a key decision factor for the customers. It is great to see that we can help DS Smith to move their performance forward with this moisture-based quality control system," says Juha Lehtioksa, Product Manager, Automation business line, Valmet.
Valmet IQ Moisturizer (IQ Moisturizer) is the industry's most advanced family of moisturizing systems. Valmet IQ Moisturizer combines staggered nozzle rows, patented nozzle technology and extremely precise electromechanical actuator which reflects to customer's process as optimal performance, reliability and transparency. Nozzle pattern layout and nozzle design guarantee full coverage of the web with precision to correct even smaller scale moisture issues.
Together with high precision electromechanical actuator and Valmet cd-control, the improvement can be predicted, and control speed and accuracy optimized. The design of valve and nozzle flow channels combined with continuous actuator position feedback increase the reliability of the system and transparency to the operators.
The solution to be delivered to DS Smith Contoire-Hamel will comprise 44 actuators, 44 nozzles beams, 44 actuators cabinets, an air supply unit and a water supply unit.