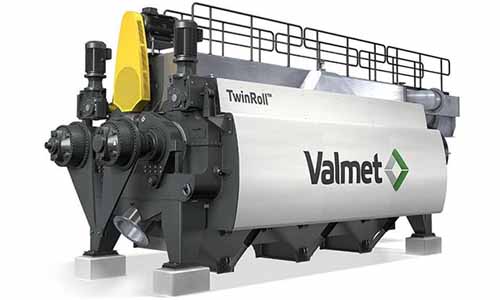 Valmet will deliver a TwinRoll™ Evolution wash press and a screw conveyor to Nippon Paper Industries Co. Ltd. Akita mill. The start-up is scheduled for end of May 2023.
The order is included in Valmet's orders received of the first quarter 2022. The value of the order will not be disclosed.
"Our group is making efforts to reduce greenhouse gas (GHG) emissions and environmental impact in order to achieve a business model aimed at carbon neutrality. For the replacement of our pulp washer, we are determined that Valmet TwinRoll Press is the most advantageous solution. We decided to adopt them based on a comparative study of different washer types on their actual performance in Japan. Akita Mill expects the new wash press to save steam by increasing the concentration of lean black liquor, to enhance quality by improving the cleaning process, and to lower the wastewater load," says Mr. Nakamura, Senior Technical Manager, Plant Engineering Department, Technical & Engineering Division.

"We are very pleased that we have been trusted to deliver a new wash press to the Nippon Paper mill in Akita. In return, our equipment will increase performance and sustainability for years to come," says Joel Engman, Sales Manager, Pulp and Energy business line, Valmet.
Valmet's scope of supply includes the fifth generation TwinRoll™ Evolution wash press, a screw conveyor, erection supervision and start up services. The new wash press will replace an existing wash filter. Valmet washing technology will lower wash water consumption and increase the washing efficiency compared to the system in place today.