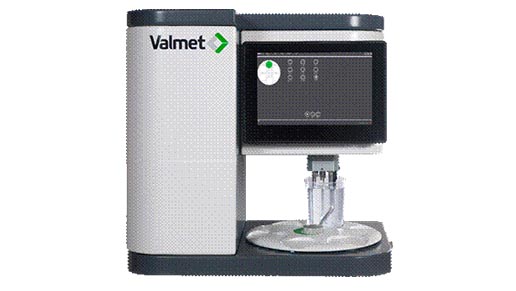 Utilizing more than 35 years of experience in laboratory and online fiber measurements, Valmet has launched a completely redesigned optics module. The ultra-high definition optics can measure more fibers with much higher resolution in order to expand application areas and improve measurement precision.
Since its launch in 2013, the Valmet Fiber Image Analyzer (Valmet FS5) has made precise standardized fiber morphology measurements possible without special training, sample preparation or laboratory facilities. Now, the new optics feature a wider measurement cell to allow improved shive particle measurement, a larger image area to measure more and longer fibers and an ultra-high definition camera providing faster fiber analysis and increased sharpness for better fibril and small particle detection. The new optical module is also available as an upgrade to existing Valmet FS5 analyzers.
"Our Research & Development team did it once again! The improvements in the optics allow our customers to see smaller particles, identify particles like parenchyma cells, and to be able to measure longer fibers or larger shives particles than before," says Tommi Niskanen, the Product Manager for Valmet FS5.
Valmet FS5 is intended for use in regular mill testing while also meeting the requirements for research laboratories. The results are ISO standard compliant and fully traceable and provide a better understanding of the paper making potential of the pulp, helping papermakers to better manage the process to get targeted end product quality.
The upkeeping requirements for Valmet FS5 are minimal and each unit is calibrated with an accredited calibration tool at Valmet's production center in Kajaani, Finland.
"Valmet FS5 platform has been validated by over one hundred happy customers globally. The possibilities with the new optics have created positive feedback from both our old and new customers," says Tuomo Kälkäjä, Director for Valmet's analyzers, measurements and performance solutions.
Ultra HD technology detects smaller particles
The Valmet Fiber Image Analyzer enables pulp and paper mills to unlock the true value potential of their raw material for optimum end product quality. With the new compact and user-friendly unit, customers can benefit from a wider range of available measurements combined with improved usability and reliability resulting in savings in terms of both time and resources.
The analyzer requires no special facilities other than water, drain and electricity. It is transportable for use on the machine floor as well as shift laboratory, when and where needed for fast and accurate pulp property analysis. Easily programmed for customized analysis and reporting, the FS5 is provided with basic measurements of fiber dimensions (length & width), fines, coarseness and curl, with two optional measurement packages that add blend ratio, external fibrillation, kink and cell wall thickness as well as neural network classification of vessel cells, shives, parenchyma cells, fiber entanglements, and more