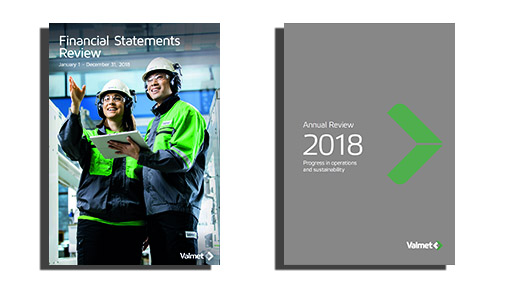 Valmet has today, on February 27, 2019, published its Annual Report for 2018 on the company's website at www.valmet.com/annualreport2018. The Annual Report consists of three separate parts : the Annual Review, the Financial Statements and the GRI Supplement. The GRI Supplement is available in English only.
The printed copies of the Annual Review and the Financial Statements will be available in Finnish and English during the week of March 18, 2019 at the latest. They can be ordered at www.valmet.com/subscribe.
The GRI Supplement is available as PDF only. The report defines Valmet's sustainability reporting scope and principles, and alignment with the Global Reporting Initiative (GRI).
Valmet has also published its Corporate Governance Statement and Remuneration Statement for 2018. These have been prepared in accordance with the recommendations of the Finnish Corporate Governance Code and are available at www.valmet.com/governance.
The Annual Review, the Financial Statements, the GRI Supplement, the Corporate Governance Statement and the Remuneration Statement are attached to this stock exchange release.