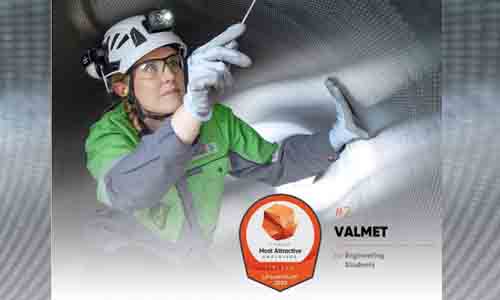 Valmet has been chosen as the second most attractive employer by engineering students in Finland. The ranking was published in Universum's annual Talent Research, which is the biggest employer survey in Finland.
In recent years, Valmet has been actively developing its student and university collaboration in Finland and abroad. The focus has been on developing new trainee programs, establishing a global concept for university cooperation, starting to collaborate with schools to make engineering as a subject more attractive to middle schoolers and continuing to run an active summer trainee program in Finland and Sweden. For 2023, Valmet is set to have nearly 600 students working in Valmet locations around Finland.
"An important recognition like this means that our continued efforts and investments in different student opportunities, such as trainee programs and internships, have again proven valuable. It is our pleasure to offer a workplace for students where they can participate in real projects gaining valuable experience and grow their expertise. In return, the students bring energy and fresh ideas which generate valuable development opportunities to the whole organization. Thank you to the students who contributed to Universum's research and to the Valmeteers around the world for making Valmet an attractive work community," says Julia Macharey, Senior Vice President, Human Resources and Operational Development, Valmet.
Information about the Universum Talent Research
Every year, university students vote for their ideal employers in Finland's largest career-related study – the Universum Talent Research. This year, over 13,000 students from different areas of study in Finland provided insight on company characteristics they find most attractive in a potential employer as well as who they perceive to be their ideal employer. Valmet was included in the ranking in the fields of Engineering, Business, Natural Sciences and Information Technology.