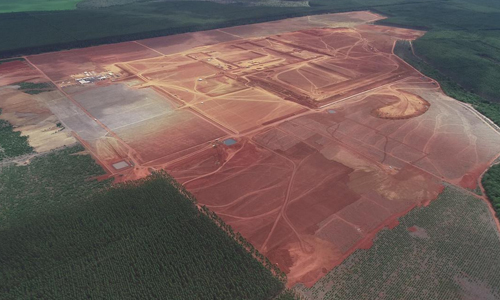 In a recent communication, the Austrian group Lenzing announced that IFC, a member of the World Bank Group, and IDB Invest, a member of the IDB Group, are co-leading a USD 1.1 billion financing to LD Celulose S.A., a joint venture between Lenzing AG and Duratex S.A., to build one of the largest dissolving wood pulp plants in the world, in Minas Gerais State, Brazil. The export credit agency Finnvera and seven commercial banks are participating in the financing. The investment will strengthen the competitiveness of Brazil's pulp industry, create jobs, and support the country's efforts towards climate change mitigation.
The financing co-led by IFC and IDB Invest will support LD Celulose's investment program for 2020-2022, which consists of the construction of a dissolving wood pulp (DWP) mill and the installation of a cogeneration plant with a capacity of 144 megawatts. As part of the project, LD Celulose will also sustainably plant and manage approximately 70,000 hectares of eucalyptus plantations.
The plant will operate among the highest productive and energy-efficient in the world and will feed the 40 percent of excess bioelectricity generated on site as green energy into the public grid. DWP is the main raw material used to produce wood-based textile fibers, a biodegradable and more environmentally friendly fiber alternative. The end-products of DWP include textiles and hygiene products, among others. Once operational in 2022, LD Celulose will have capacity to produce up to 500,000 tons of DWP per annum.
Brazil is one of the most competitive pulp producing countries in the world, due mainly to its availability of high-quality land, favorable soil and climatic conditions, and high forest productivity. The forestry sector plays an important economic and developmental role in the country, employing about 350,000 people, mainly in rural areas, and accounting for 4.2 percent of the country's exports.
This investment will help strengthen the competitiveness of the pulp industry in Brazil and support job creation. In addition, LD Celulose's cogeneration plant will contribute to an increase in the share of sustainable biofuels and renewable energy in the country's energy mix, enhancing diversification and contributing to the country's effort to mitigate climate change. The financing will also increase sustainability standards for the pulp industry and the plantation forestry sector through LD Celulose's adoption of IFC's Environmental and Social Performance Standards.