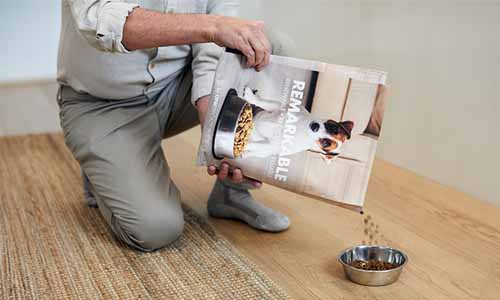 UPM Specialty Papers is responding to the growing pet food market's need to transform traditional packaging solutions by offering paper-based alternatives for plastics and packages that contain soon to be phased out PFAS chemicals.
PFAS chemicals, also known as forever chemicals, are often used to achieve grease resistance that is an important requirement for pet food packaging. However, PFAS chemicals are harmful to health, and are therefore being phased out with regulation. For example, the upcoming EU Packaging and Packaging Waste Regulation (PPWR) is expected to prohibit companies from bringing packaging products containing PFAS chemicals to the market.
"As PFAS chemicals are expected to be banned in the EU, UPM Specialty Papers can support converters and brand owners in this change. UPM's barrier papers can achieve excellent grease resistance without the use of PFAS chemicals," says Kalle Luomi, Senior Manager, Product Stewardship, UPM Specialty Papers.

Depending on customer requirements, the company offers a wide range of packaging papers for pet food packaging. One example is the UPM Asendo™ Pro barrier paper that combines recyclability and grease resistance with excellent print properties.

UPM Specialty Papers and partners in the packaging value network can also together co-create packaging solutions that help customers meet their goals such as food safety, recyclability, and other needs. For example, strength is also a necessary feature for pet food packaging that not only needs to endure logistics but also contents that weigh up to 20 kg.

"Great packaging protects what is being sold, but it also sells the product it protects," Marco Tramontano, Sales Director, UPM Specialty Papers says. "People love their pets: they want to know that their best friend gets the same quality that they do. That's why we are pleased to offer pet food brands food-safe packaging that also ensures the shelf appeal of their products – and reduces plastic."

Order a sample: https://www.upmspecialtypapers.com/campaigns/new-breed-of-packaging/