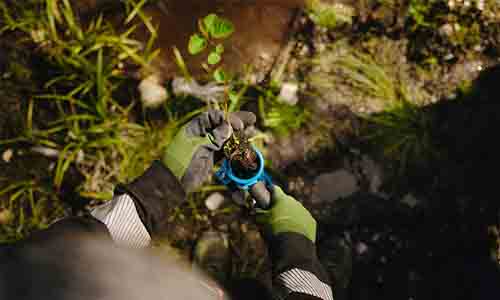 UPM Forest is the main partner of the European Athletics U23 Championships to be held in Espoo from 13 to 16 July 2023. The partnership is based on shared values and responsibility goals between UPM Forest and the competition organisation.
One of the main themes and objectives of the championships is to promote sustainable, environmentally friendly competition and to highlight equality and equity. UPM participates in many community projects which support sustainable development and contribute to the financial and spiritual well-being of the communities around us.
"We are delighted and, above all, proud that UPM Forest was chosen as a partner for the European Athletics Youth Championships. We believe that a strategic level partnership in the fight against climate change is also important for the young people who will be competing in the Championships", says Harri Hollo, Sales Manager of the European Championships, about the important topic.

"The partnership has a good basis, as fighting climate change and improving biodiversity are central to the goals and values of UPM, the City of Espoo and the competition organisation. At UPM, we are committed to climate-positive forestry and to increasing biodiversity in our forests. In addition, this cooperation also enables us to encourage young people to exercise, have hobbies and at the same time take care of nature", says Sami Oksa, Director of Stakeholder Relations, from UPM Forest.

"The City of Espoo wants to take care of biodiversity and achieve carbon neutrality by 2030. We also strive to organise our events in a responsible way and to mitigate climate change, and the idea that the medallists will receive their own tree seedlings on the podium, which will be planted in the Espoo soil, is an important message of respect for nature", says Martti Merra, Director of Sport of the City of Espoo.
The partnership will be visible in many ways, and it will culminate in the planting of broadleaved tree seedlings in the forests near Leppävaara Sports Park during the Championships. Part of the spectators who bought a ticket to Championships can also participate in the planting of seedlings. Increasing the share of broadleaved trees improves tree growth, biodiversity and climate resilience. The concrete action aims to tell people across Europe that forests are a key solution to the global climate crisis and to stopping the accelerating loss of biodiversity, and that Finland's forests are a responsible place to produce renewable raw materials to meet the world's growing demand. Finnish forestry does not cause deforestation, as forests here always grow more than they are used.
The European Athletics U23 Championships will be held from 13 to 16 July 2023 at the Leppävaara Stadium in Espoo, Finland. The Championships are expected to attract 1,100 athletes and thousands of spectators from over 50 countries.