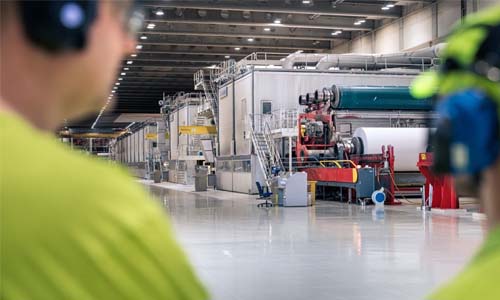 As the fateful date of the final closure of the site at the end of June approaches, hope could be restored at the UPM Chapelle Darblay site. On 10 May, the President of the Republic replied by letter to Nicolas Mayer-Rossignol, Mayor of Rouen and President of the Rouen Normandy Metropolis, to the letter sent by numerous elected representatives on 10 March. Stressing his commitment to the ecological transition, as shown by the Recovery Plan as well as the "Climate & Resilience" draft legislation, Emmanuel Macron recalled « the importance of fighting to preserve our industrial jobs. »He also considered that "the priority in the coming months is to allow companies to hire and invest, to relocate their activities on our territory and to support employment throughout the country around the ecological transition.» He also indicated that Agnès Pannier-Runacher, Minister Delegate in charge of Industry, « is following this dossier closely.»
On the same day, the Prefect of the Normandy region and of the Seine-Maritime Department, convened the Industrial Commission of the plant, in the presence of numerous personalities.The meeting reviewed the six non-binding bids received by UPM to take over the site, the timetable for the procedure and the public support provided by the State, the Normandy Region and the Rouen Metropolitan Area to consolidate and secure these bids (financing, sustainability, supply of carbon-free materials and energy at controlled costs, technical feasibility and compliance with current regulations, particularly in the environmental field).
The projects and the nature of the applicants are diverse: four bids are from the paper/cardboard industry, one from the low-carbon energy and recycling sector and one from logistics. At the meeting, UPM reiterated its determination to sell and asked the bidders to submit a binding offer by mid-May. UPM will choose between the bids by 30 June at the latest. The sale would take place in the third quarter.
Valérie Lechiffre