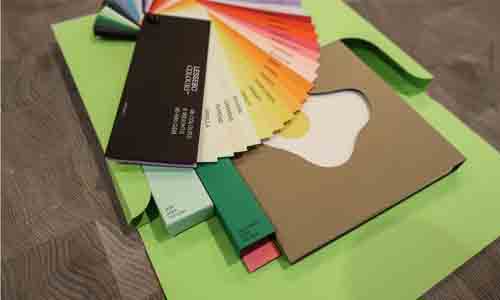 Together with Taberg Media Group (TMG), Lessebo Paper is proud to partner with Guldägget as the sponsor in the categories of Packaging Design and Identity Design.
In the world of design, creativity knows no bounds. And when it comes to packaging and identity design, the right materials can make all the difference. That's why we're thrilled to announce that Lessebo Paper has joined forces with Guldägget as a sponsor together with Taberg Media Group (TMG) in the categories of Packaging Design and Identity Design.
Lessebo Paper is synonymous with quality, sustainability, and innovation. And with our carefully curated series of Lessebo Colours, we provide designers with a versatile and expressive paper to bring their visions to life. That's precisely what TMG did when they created this artistic goodie bag in our sustainable paper dedicated to the jury of the Packaging Design and Identity Design categories.
This partnership with TMG and Guldägget represents a milestone in our mission to promote sustainable and creative design. By partnering with one of the most prestigious design awards in the world, we're showcasing a palette of what Lessebo Paper has to offer.
So, what can you expect from this exciting partnership? A showcase of innovative and beautiful designs, all created with Lessebo Colours. Whether you're a designer, a paper enthusiast, or simply someone who appreciates creativity, this partnership is sure to inspire you.
This is us introducing Lessebo Colours, a new range of environmentally friendly coloured paper with maximum expression and minimal footprint. Join us in celebrating the partnership between TMG and Lessebo Paper, and stay tuned for more exciting updates!