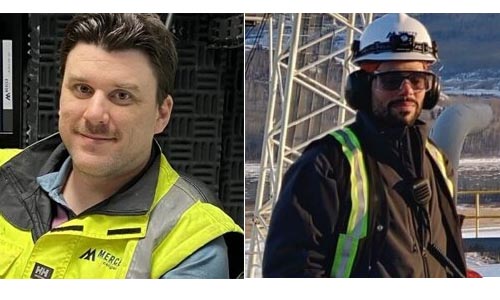 Mercer International Inc. is proud to announce that two team members from our Canadian operations have been selected for the Pulp and Paper Canada Top 10 under 40 list. Devin Kelly, Operations Specialist for Mercer Celgar's machine room, and Leonardo Gomez, Project Coordinator at Mercer Peace River, were both nominated earlier this year by their colleagues for the 2021 opening, earning a spot with Pulp and Paper Canada's second annual contest.
Devin Kelly
A third-generation pulp worker, Kelly has used his engineering background and penchant for change management to lead multiple improvement initiatives in his five years in the machine room, including a profiling steam box design, construction and install for PM1, vacuum optimization and PH control design projects for the pulp machine, and production loss analysis implementation and tracking.
"The passion, commitment, and energy that he puts into his role here at Mercer has led to significant reliability, production and morale improvements," says Jeff Dechaine, Kelly's manager and nominator. "He is a leader beyond his years, and a shining example of what the next generation of leaders in our industry can be."
Leonardo Gomez
Joining Mercer Peace River in 2015, Gomez's passion and problem-solving aptitude were quick to impress the team. During his time at MPR, Gomez has grown professionally and personally, attaining his designation as a Professional Engineer, managing projects up to $5 million, and assisting with the ongoing overhaul of the mill's wood room. His attitude and aptitude have also led to his involvement on the fibre handling side, where he bridges projects and operational reliability, and to work on acquiring his Project Management Professional certification.
"He has a keen ability to turn concepts and ideas into fruition based on methodical evaluation of various options, weigh the benefits and risk, and then apply this same methodology in execution," says supervisor Alison Quinney, "Leo is a driven, dedicated and energetic team member who is always willing to go the extra mile to seek innovation, more responsibility, and ways to deliver value to the MPR organization."
This is the second year that our Mercer operations have nominated team members for the Top 10 under 40 contest. For the 2020 list, we saw Vanessa Terwoort, Director of Environment for Mercer Celgar, selected for the list.
"I would like to extend my congratulations to both Leo and Devin for receiving this prestigious award," President and CEO, David Gandossi, stated. "To achieve this level of recognition through a nomination by their peers is a reflection of their commitment to excellence – both to Mercer and their teams. I am proud of them both."