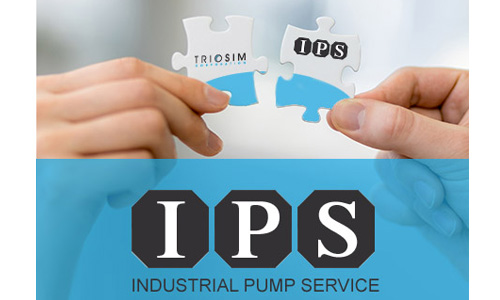 Triosim Corporation headquartered in Appleton, WI. an industry leader in the pulp, paper and industrial markets is pleased to announce it has acquired IPS, Industrial Pump Services located in Leland North Carolina and Clinton Louisiana. This is the 5th strategic acquisition Triosim has made in the past 3 years.
"This acquisition is an excellent fit for our business as it will add capability, capacity and scope to our already broad range of products and services for the paper industry" said James Hickman founder and CEO of Triosim Corporation. "The addition of IPS not only adds additional locations and a highly skilled precision mechanical service team it also aligns perfectly with our current customers in the pulp, paper, paper converting, container board and corrugated packaging industries.
Founded in 1981 IPS has been a leader in the industrial pump industry rebuilding, repairing and servicing high- and low-pressure feeders, vacuum pumps, thick stock pumps compressors, mixers refiners and virtually any rotating equipment. Specializing in the Pulp and Paper industry they are a single source provider with experienced teams that provide shop services, field services and technical services to their customers. With locations in Leland NC. and Clinton LA. they can quickly and efficiently provide precision and preventative maintenance service to their customers.
The owner of IPS, Billy Seguin said "this opportunity to become part of Triosim provides a great opportunity that will allow us to continue growing and supporting our employees and customers with the additional services and products Triosim offers"