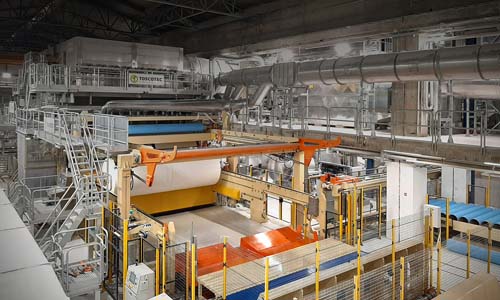 The AHEAD 2.2L tissue machine supplied by Toscotec to the Slovenian tissue producer Paloma has achieved its top speed and performance at Sladki Vrh mill. Paloma d.d., part of the Slovak Hygienic Paper (SHP) Group, purchased its new line from Toscotec on a turnkey basis and has confirmed that the machine has fulfilled all the conditions for take over acceptance.
The new line completely replaced the previous PM6, calling for a customised design of the process and the layout that respected the constraints of the available space and at the same time guaranteed the highest production efficiency.
The AHEAD 2.2L tissue machine has a 5,500 mm sheet trim width, 2,000 m/min operating speed and a daily production of 220 tons. Designed to guarantee the lowest possible energy consumption, it features Toscotec's shoe press TT NextPress, TT SYD, gas-fired TT Hood with multiple stages of energy recovery.
The turnkey supply included the stock preparation equipment and accessories, Toscotec's patented TT SAF Short Approach Flow, the complete electrification system, the dust and mist removal systems, and a shaft puller integrated with the pope reel. The new line is completed by Toscotec's newly designed OPTIMA 2600 slitter rewinder, equipped with four unwind stands, an automatic NIP control system and integrated shaft puller.
The service package included the full range of operations from dismantling to erection, supervision, training, commissioning and start-up.
Stevan Lomic, Technical Director of the SHP Group, says: "We achieved the target of equipping Paloma with advanced technology to produce at full capacity. We are manufacturing premium quality tissue, and are very happy with product quality. Toscotec has shown extreme flexibility in these challenging times and has completed the project with great professionalism."
Stefano Raffaelli, Project Manager at Toscotec, says: "Paloma's project started off as a particularly interesting and challenging one, where we tailored our solutions to the existing plant and managed the necessary changes during the course of the project focusing on our targets. The Covid-19 outbreak posed an even bigger challenge, but we tapped into our great flexibility and ability to take fast decisions when faced with unexpected events in order to respect the timeline. With great cooperation from Paloma's team we accomplished our common goal."