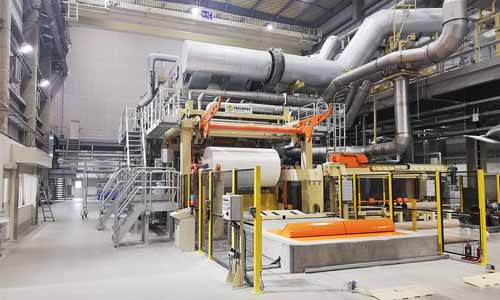 The Marutomi Group fired up a Toscotec-supplied MODULO-PLUS ES tissue machine at its Ono Paper's mill in Fuji city, Japan. This is the second of two tissue lines supplied by Toscotec to the Marutomi Group, who implemented a strong expansion in the Japanese market. The first machine came online in the third quarter of 2019 at Marutomi Paper's mill.
The MODULO-PLUS ES machine has a sheet width of 2,850 mm, an operating speed of 1,500 m/min and production capacity of over 22,000 tpy. It features Toscotec's shoe press TT NextPress, TT SYD Steel Yankee Dryer, TT Hood-Duo steam-heated hoods, and Toscotec's proprietary Distributed Control System TT DCS, developed on a Mitsubishi platform for this project in cooperation with the Japanese Corporation.
The supply includes Toscotec's patented TT SAF® (Short Approach Flow) system, dust and mist removal systems, an automatic shaft return system on the pope reel, and an in-line shaft puller. The service package consists of the detailed engineering, erection supervision, commissioning, and start-up assistance.
Shinichi Kato, Vice President of Marutomi Engineering Co., Ltd., says, "We had a very positive cooperation with Toscotec on the tissue machine they installed at our Marutomi Paper's mill two years ago. On this new tissue line for Ono Paper's mill, Toscotec really went the extra mile to support us even more, due to the Covid-19 restrictions in place in our country. The new machine is performing very well, and we expect it to achieve the high energy and production efficiency of the other Toscotec line in order to continue delivering premium quality to our customers."

Andrea Paganucci, Toscotec Project Manager, says, "On this project, Toscotec went all out to overcome the obstacles posed by the pandemic. We pushed forward as one single team: Marutomi in Japan and us in Italy, and finally we managed to work through the complicated visa process. In accordance with Japan's quarantine regulations, our commissioning and start-up teams self-isolated for a fortnight before getting to the mill and beginning their work. This start-up truly is a big success for all the people involved."