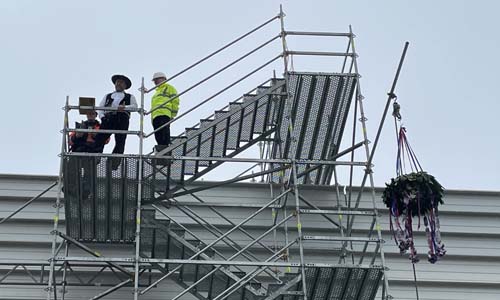 The construction work at the newest plant to be built by the manufacturer of containerboard and corrugated board Progroup is progressing on schedule. At the end of April, the family-run company invited everyone involved in the construction work and project to attend the topping out ceremony at the construction site located between Petersberg and Höheischweiler. 
"In June 2022, we officially broke the ground for our new corrugated sheetfeeder plant on a bare construction site. Today, not even a year on, we reach the next major milestone," said Maximilian Heindl, Chief Executive Officer of Progroup. "This has only been possible thanks to extraordinarily visionary project planning and the hard work of the teams here at the construction site," acknowledged Heindl. "For us, the topping out ceremony is also an important milestone in the growth strategy that we have consistently pursued." 
Work on the facade and roof is well advanced
The shells of the production hall and the high-bay warehouse linked to it have now been completed. Large sections of the building facades have already been clad, and the roof is two-thirds finished. Just in time to mark this ceremony, the company's logo was also attached to the building so it is highly visible. Alongside this, work on the foundation slab and the machine foundations is also taking place inside the production hall. The whole of the building will be weathertight by the summer, and production is scheduled to start in the first half of 2024.
Sustainable packaging park: Short-distance partnership
The new, state-of-the-art corrugated sheetfeeder plant is being constructed right next to Progroup's long-standing partner, the packaging manufacturer G&G Preißer. In future, this will enable Progroup to deliver its corrugated board sheets to its neighbour just in time via a direct link so that G&G Preißer can process them into packaging. A significant amount of CO2 emissions and freight costs will be saved by the two companies having closely interlinked logistics and production processes. This will create an extremely sustainable packaging park.
Long-term commitment to the southern Palatinate region
Progroup is investing more than 90 million euros in the new building. It is the family company's thirteenth corrugated sheetfeeder plant overall and a clear commitment to the southern Palatinate region as a place to do business. Progroup's first plant began operating in Offenbach an der Queich more than 30 years ago. Progroup's Group Office, which is the company's administrative headquarters, is located in Landau.