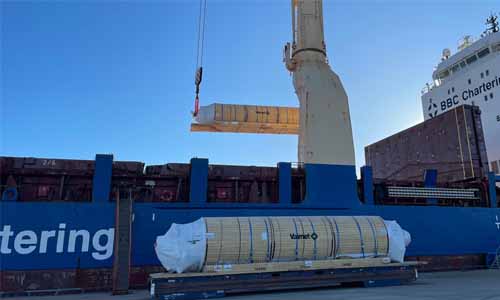 During the first days of April the world's largest wash press departed from Sundsvall's harbor in Sweden heading towards its end destination, Rio Grande in Brazil. Transporting this massive piece of equipment required thorough preparation and attention to detail.
Valmet has achieved a major milestone in global engineering by creating the world's largest wash press for pulp production. During the past four years Valmet has developed and manufactured two TwinRoll Press Forward 2288 pulp presses, which weigh a massive 300 tonnes each. The two presses will be a part of CMPC's major upgrade project, called BioCMPC, to increase eucalyptus paper pulp production from 4750 air dried tons (adt) to 6200 adt per day at the Guaiba mill in Brazil. The first wash press is right now on its way to Brazil and the second one is being prepared for shipment very soon. It will take approximately a month for the press to arrive at its final destination.
Operational excellence, developed through decades of experience
Valmet's evolution in pulp press washing, and dewatering technology, started in 1954 and has progressed over eight decades, resulting in six generations of improved TwinRoll Evolution washing presses. Wash presses are used in all washing positions in the fiberline. The TRPF 2288 is a part of the sixth and latest generation in Valmet's development path, combining the best aspects of Valmet's well proven machinery, process know-how, and state-of-the-art automation.
"We selected the best experiences from the previous generations while developing the TRPF 2288. It has 15% higher production capacity, compared to Valmet's previous largest press, TRPE 2084. It also gives pulp makers improved washing efficiency as well as higher availability, whilst at the same time minimizing operational and maintenance costs."
Solving giant manufacturing challenges
Manufacturing these large wash presses placed extensive demands on the Valmet workshop, since the components were larger and heavier than anything previously manufactured in the company's long history. Thanks to two new state-of-the-art milling machines, and very close collaboration between the development and workshop teams, the presses were manufactured successfully.
"We have a huge advantage by having the workshop located close to the development team in Sundsvall, which enables a very tight cooperation. Manufacturing such massive equipment would not have been feasible otherwise."
Complex transportation issues
Transporting the world's largest wash press is a complex and challenging process that requires a lot of planning, coordination, and expertise. This case is quite special, since normally large equipment is first transported by road from Sundsvall to Gothenburg by specialized vehicles designed to handle heavy loads, and from there to the end destination by ship. But this wouldn't work for the TRPF 2288 units.
"The TRPF 2288 is so large and heavy that we had to find an alternative transport solution. We decided to transport it directly from Sundsvall to the customer by a chartered ship. We have never done this for such a large machine before, which makes this type of logistical challenge really interesting to work with."
Before shipping, the wash press first had to be prepared for transport. It was disassembled into manageable sections and transported to Sundsvall's harbor, where the sections were loaded on to the ship and properly secured for transport from Sweden across the Atlantic Ocean to Brazil. Once the wash press has safely reached the customer, Valmet will reassemble the equipment and conduct any necessary testing and commissioning to ensure that it is fully operational.