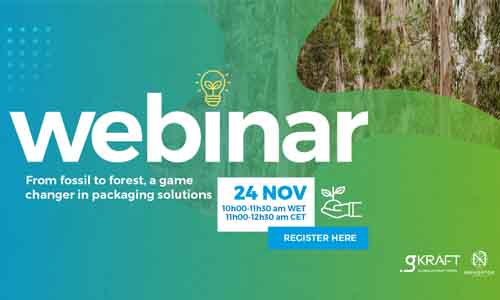 From fossil to forest, a game changer in packaging solutions
gKRAFT presents itself as "the" solution that guarantees the reduction of the use of fossil materials, as is the case with most plastics, in favour of renewable and biodegradable forest-based materials – "From Fossil to Forest" – to help build a sustainable future.
The brand name, gKRAFT, uses the term "Kraft", which means "strength" and "power" in reference to the company's manufacturing process, in which the fibres obtained have better mechanical properties and greater resistance. In addition, the meaning of the letter "g" in gKraft refers to globulus (the species of eucalyptus used in paper production), as well as the various characteristics that define this new product – good, green, game changer, guaranteed results, growth – and that make this packaging solution meet all sustainability requirements.
The Navigator Company's packaging solution includes three sub-brands targeting specific market needs: FLEX was designed to develop flexible packaging for the food industry, catering and pharmaceutical trade; BAG is intended for retail product packaging already used by major international brands; finally, BOX (focused on paper for corrugated cardboard boxes) is intended for more resistant industrial and retail packaging, namely food retail, where there is a growing need for shelf-ready packaging, particularly in refrigerated environments, with high-quality printing to attract consumers and differentiate brands from the competition, which is critical today.
As an innovative paper packaging brand, gKRAFT is pleased to host a webinar that drives the force from Fossil to Forest, enhancing the fundamental role that wood fibres play as a solution towards a more sustainable world.
The main purpose of this webinar is to discuss the importance of Eucalyptus globulus as a differential element for innovation and the creation of a disruptive product that opens the way for a new packaging paradigm.
We count with the participation of industry experts like Angela Graham-Brown (WBCSD), Fabienne Sinclair (PEFC) and Jonathan Tame (Two-Sides) on subjects like forests, biodiversity, sustainability, the importance of PEFC, the growth of the circular bioeconomy with forest products, the myths and facts about paper packaging and the role of virgin fibre.
Take this opportunity to discover how we can create a future with new packaging solutions.
The webinar will take place on November 24th, 2022.
From 10h00 to 11h30 am WET | 11h00 – 12h30 am CET
Register here: Webinar Registration – Zoom