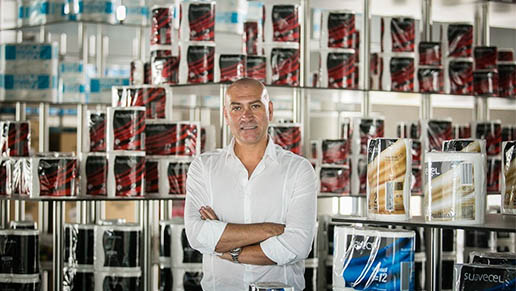 Suavecel is one of the most important producers of tissue for domestic use in the Iberian peninsula. OMET's partner for over ten years, Suavecel has recently purchased two OMET TV 840 lines and one OMET ASV Line for interfolded products: a key investment that feeds the exponential growth of the company, based on technological innovation, know-how and attention to quality.  
Suavecel started its business in 1996 by selling toilet paper in the area of ​​Viana do Castelo, Northern Portugal. Today, beyond the production of tissue paper, Suavecel works as a converter with folded products (napkins, facial tissue, interfolded towels and toilet paper) and rolls (toilet paper, kitchen roll and industrial roll).
Over its 22 years of operation, Suavecel has undertaken a constant, strong and sustainable growth: it has always invested in new lines, technologies and equipment. Production has expanded and the company has changed several locations, up to the current facilities located in an area of ​​100,000 square meters. In 2013 they started a tissue converting project and today they have several converting lines for a total capacity of 150,000 tons/year of folded products and rolls.
"To grow in this market it's necessary to count on the most sophisticated converting technologies and on reliable partners for technical assistance" says Arménio Leite, Suavecel Operations Director. "Our partnership with OMET was born and has developed on this basis. We purchased and installed the first OMET machine in 2005: the reliability and the precision of the folding heads led us to invest again on the OMET brand recently, buying two OMET TV 840 lines and one OMET ASV Line. In terms of service, OMET has always answered promptly and effectively to our requests for technical assistance. The experience gained over the years have led us to choose again OMET as a partner".
The company works with private label products branded Suavecel, which have driven its business growth. "Our product range is diverse and allows us to satisfy any market's request with high quality products and competitive prices – explains Leite -. Service level and control of the whole production process are fundamental to accomplish this aim: customers are more and more demanding, given the reduced deadlines and the restricted stocks. These factors require us to be flexible and to have efficient processes, especially from the logistics point of view: we have one of the largest automated warehouses of the Iberian Peninsula".
About 60% of our production is exported, with Spain as the main destination. Suavecel also operates in other geographical areas such as France, United Kingdom, PALOPs (Portuguese-speaking African countries) and is taking its first steps in Latin America. "We want to expand and consolidate our presence in these and other geographical areas – says Nuno Ribeiro, CEO of  Suavecel – but we believe that there is still room to grow even in consolidated markets like Portugal and Spain, because tissue use, in our opinion, will increase".
"In the future, we want to guarantee market shares in the areas where we are already present, enter new markets and develop Suavecel brand – concludes Ribeiro -. The OMET lines, for their technological level and their flexibility, are fundamental for achieving our growth objectives. OMET has shown over time the ability to be in step with market needs and to make advanced technological proposals such as those for digital printing. This way OMET allow to meet customers' needs and to guarantee them the best value for money".
Suavecel is part of the Ghost group, which launched in 2014 Nunex, a company operating in the field of intimate hygiene (nappies, sanitary towels), with products widely recognized for their quality.
"Everyday we work to achieve the best value for money for all our products – says Nuno Ribeiro -. For us, quality is a daily challenge together with technological innovation, competitiveness, flexibility and matching market needs".