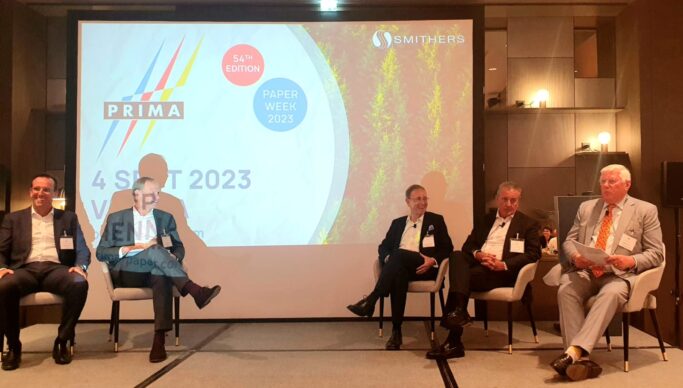 This year, the Prima, Specialty Papers, and E-Pack Conferences have been merged to comprehensively cover the entire paper industry during a 3-day event hosted under the banner of Smithers Paper Week. The event commenced today at the Marriott Hotel in Vienna with the Prima conference.
Prima has served as a popular platform for C-level executives within the pulp and paper value chain for the past 50 years. The presentations delivered today have been of exceptional quality, encompassing topics such as the global economic landscape and outlook, the regulatory framework, the challenges of digitization, and the significance of ESG (Environmental, Social, and Governance) ratings in the context of green finance.
The C-level roundtable, expertly moderated by Berry Wiersum, featured prominent industry leaders including Peter Oswald, CEO of MM Group, Saverio Mayer, CEO Europe of Smurfit Kappa, Marko Eikelenboom, CEO of Sappi Europe, and Martin Zahlbruckener, CEO of delfortgroup AG. They all shared their insights on current market conditions during an engaging and lively session.