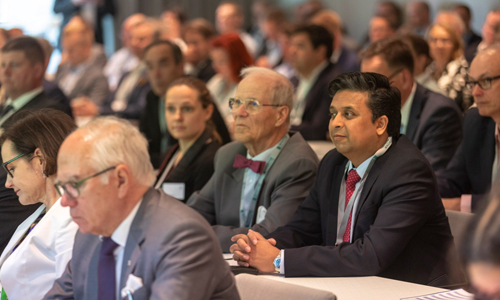 The leading forest-industry event PulPaper will, in its conference programme, highlight key talking points in the industry right now. Featuring top Finnish and international speakers, the event will cover topics such as the environment and sustainability, energy efficiency, and safety in the industry. PulPaper will be held at Messukeskus in Helsinki from 27 to 29 April 2021.
The conference programme of the forest-industry event PulPaper, to be held next spring, will include the most interesting topics in the industry, on the theme of Building tomorrow's bioeconomy. The conference programme will be divided into sub-topics, so that it is easy for participants to choose the topics that interest them most among the speeches.
In the IT and automation sub-topic, discussion will focus on the opportunities offered by digitalisation in the forest industry, with special focus on investments in the industry. In the safety and risk management sub-topic, the issues highlighted include the creation of a safety culture in the forest industry and the continuous development of risk management of recovery boilers. The efficiency of the industry will also be addressed in the conference programme, through examples of smart and proactive maintenance, optimising energy balance at mill integrates, and the continuous development of operations.
The environment and responsibility are also major talking points in the forest industry. At PulPaper, these are discussed, for example, in relation to the benefits, challenges and recyclability of bio-based materials. The forest industry is also increasingly expanding into textiles, and the use of recycled paper as a textile fibre will feature in several speeches. Another topical issue in the forest industry is packaging solutions, and, in this area, the event will present the possibilities of nanocellulose in food packaging, and current developments in eucalyptus-based packaging products.
"The forest industry can offer many concrete solutions to global challenges. These solutions will build the sustainable bioeconomy of the future, which we want to discuss at PulPaper", says Antti Lindqvist, the managing director of the Forest Products Engineers association.
The final, full programme of the event will be published at the end of this year.
The forest industry and the entire international chemical industry to feature concurrently at Messukeskus
The upcoming PulPaper will be held concurrently with ChemBio Finland and the Helsinki Chemicals Forum, which will make the event package very attractive internationally for visitors and participating companies.
"It's great to have the leading forest-industry event PulPaper and the entire international chemical industry at Messukeskus at the same time. This will achieve great cross-sectoral synergy and will offer participants a great opportunity to network and complement their skills", says the PulPaper sales group manager, Marcus Bergström.