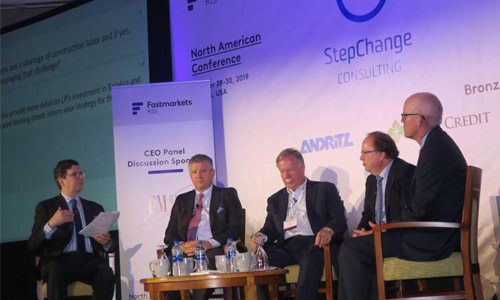 The Fastmarkets RISI North American conference is taking place this week in Boston. This is the 34th edition of this annual event gathering top executives of the wood products and pulp and paper sectors.
The traditional detailed market outlooks of every segment of the value chain, presented by the senior analysts of RISI, have in common this year to insist on the general slowdown of the economy globally to be expected in 2020, while 2021 should show a significant rebound. This situation will affect every grade of paper. However, we are not talking of recession, but only of a slower growth.
Among the CEOs invited this year, Luigi Lazzareschi of Sofidel shared with the audience his confidence in the US tissue market, where the company has already invested over 360 000 US$. The italian producer is quickly growing on this side of Atlantic where the group already runs 6 production and converting sites. Mr Lazzareschi reminded that the local competition, in the hand of very few dominant actors, is running machines with an average age of 35 years, placing Sofidel in a good position serve the market with competitive and more sustainable products thanks to more recent technology. He  also  mentioned his ambition to reach a capacity of 300 000 tonnes by the end of 2020. This could be achieved by expanding the existing sites, but a new investment in the North West region could also be on the table.
The following event of Fastmarkets RISI will be the International Containerboard Conference in Miami next November.