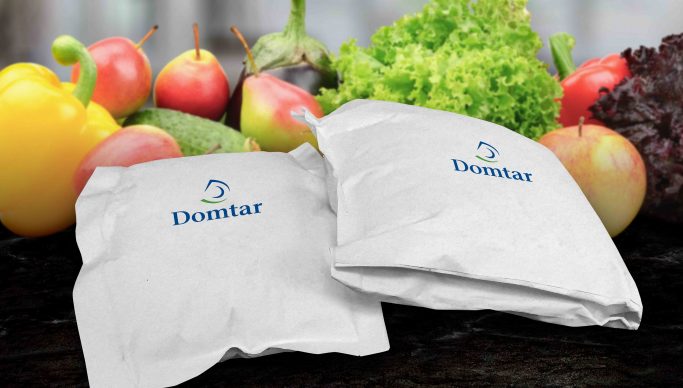 Accelerated by recent events, e-commerce sales continue to boom as today's consumers purchase more of the products they use every day online — from the clothes they wear to the meals they eat. Unfortunately, this has increased concerns about unnecessary packaging waste and ever-greater levels of plastic pollution. Enter the paper freezer pack, which may one day replace plastic freezer packs for use in shipping refrigerated products.
A Better Way To Chill
While great strides have been made to reduce the environmental burden of e-commerce packaging over the years, the traditional freezer pack remains both a pain point for meal kit customers and an area ripe for innovation.
Domtar's Catapult team, which includes individuals from market development and new technology innovation process, focuses on uncovering, tracking and evaluating the attractiveness of emerging market opportunities. The team recently revealed its paper freezer pack, an internally-developed potential solution to the issues posed by conventional cold chain offerings. Not only does the pack reduce plastic use, but it also capitalizes on mounting public interest in products made from sustainable wood fiber.
The majority of this revolutionary paper freezer pack is made of forest-derived fiber, including paper, tissue and fluff pulp. It also includes a small amount of superabsorbent polymer, which absorbs and retain water that, once frozen, provides cooling properties.
Innovative Paper Freezer Pack Captures Attention
"Paper freezer pack technology is but one example of several promising projects that the Catapult team is involved in related to innovative fiber-based processes and products," says Brian Ranson, Domtar's director of technology innovation.
In fact, this technology is so unique that it was recently named a finalist for the prestigious Sustainable Packaging Coalition (SPC) Innovator Awards. When announcing the finalists, the packaging collaborative said it was impressed by the paper freezer pack's innovative use of fiber in a growing category while also challenging preconceived notions of what's possible with paper packaging.
The preliminary in-house testing has shown that the paper freezer pack technology:
Can hold its temperature similar to conventional options at a lighter weight
Demonstrates no leakage
Exhibits minimal condensation versus conventional packs
Rather than manufacture and convert the paper freezer packs internally, the idea is to be in active conversations with leading e-commerce solutions providers that are seeking to capture the value of this patent-pending technology while sourcing more of their packaging from a renewable resource.
"By utilizing market research to develop insights and deepen end-user understanding, Domtar realizes that it can better satisfy current customers while at the same time 'testing the waters' with innovative new ones," says Katie Zorn, director of strategic planning and market development.