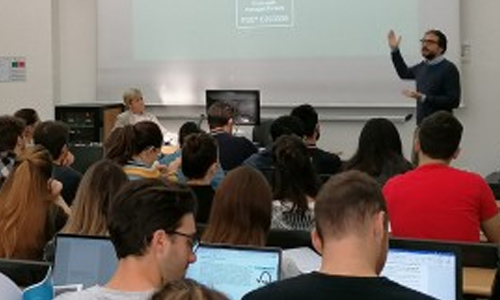 In the second half of 2019, the "NextGen" project has been dedicated to meeting the students of several Italian universities. Sofidel, together with three of its stakeholders, has carried out a number of classroom encounters to speak to students about its commitment to sustainability and demonstrate the importance and value of social, economic and environmental partnerships.
The meetings were organised at the universities of Milan, Bologna and Salerno. Together with Sofidel, FSC Italy, WWF Italy and the VéGé Group all made their contributions. The first encounter, organised in Milan, was in the form of a lecture as part of the degree course in "Social and Institutional Communication". Alongside Susanna Bellandi, Sofidel Global Creative, Communication & CSR Director, Andres Matteo Ortolano Tabolacci, the technical contact person for the FSC Italy Chain of Custody Certification, also gave a talk.
The second meeting was held at the University of Bologna, as part of the degree course, "Consumption, Sustainability and Social Innovation". Marco Galaverni, Species and Habitat Manager of WWF Italy, took part in this event. The final meeting was held at the University of Salerno, as part of the degree course in "Economics and Management". At this event, Sofidel was supported by Giorgio Santambrogio, CEO of the VéGé Group, an Italian multi-brand, co-operative large-scale retailer.