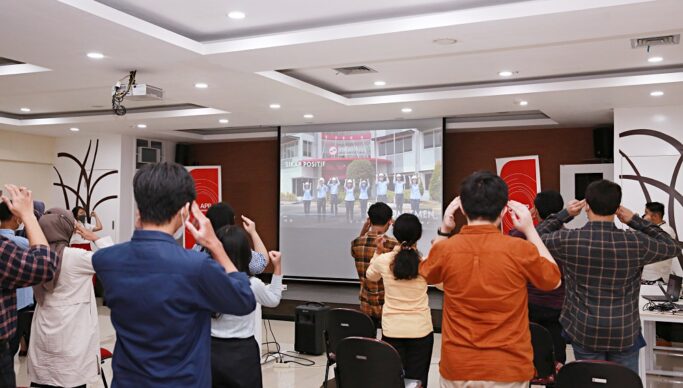 In an effort to support the  program of the Indonesian Ministry of Education, Culture, Research and Technology the pulp and paper producer Asia Pulp & Paper (APP) is introducing a sustainable pulp and paper industry through the Leadership Collaboration Program to 44 interns from various universities.
"We support this program initiated by the Ministry of Education and Culture, in addition to students getting hands-on work experience in the field, they can also explore the sustainable pulp and paper industry," said Director of APP Sinar Mas Suhendra Wiriadinata.
Suhendra also added that the pulp and paper industry is one of the national strategic industries. Based on data from the Indonesian Pulp and Paper Association (APKI) for 2020 and 2021, Indonesia is currently ranked 1st in ASEAN, 3rd for pulp and 4th for paper at the Asian level, and 8th for pulp and 6th for paper at the world level. with a contribution of 3.84 percent for non-oil and gas GDP.
The internship program, which will take place from 18 August 2022 to 23 December 2022, is expected to enrich and improve the knowledge and competence of the program participants, especially in the pulp and paper sector.
"We hope that students who have completed their internship program at APP Sinar Mas, can have broad insights and concepts on how to implement a sustainable industry or green industry," said Suhendra.
One of the apprentices from the Ten November Institute of Technology (ITS), Department of Technical Systems and Industry, Fitri A. Simanjuntak admitted that she was very enthusiastic about participating in the first phase of this internship. "By participating in this activity, I hope to gain experience working professionally, and get a positive company culture, in addition to being able to implement the theories taught on campus into the world of work," she said.
Career Opportunities
In this Kampus Merdeka internship program, APP Sinar Mas will place 44 students in 13 positions with a total of 17 projects during the program. The 44 students were selected from more than 8,000 applicants who entered from more than 500 universities.
"The interns will be directly involved in the project, and they will receive direct guidance from experts in their respective fields," said Norman Firmansyah, Head of HR Academy at APP Sinar Mas.
Norman added, "through the Kampus Merdeka program, participants have the same opportunity to be selected into several APP Sinar Mas programs, such as the Graduate Trainee Program, Management Trainee Program, or other available positions."