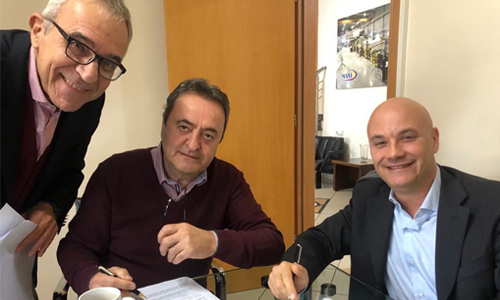 Earlier this year Recard S.p.A. signed a contract with the Greek company MAXI S.A. for the supply of a second complete turnkey plant for the production of Tissue Paper.  Installation and start-up are scheduled for 2021. For MAXI this will be PM2 but for the owners of MAXI this is the third plant ordered from Recard  (the first was Papyros PM1, installed in 2006), as they were the founders and previously main shareholders of Papyros Paper Mill, nowaday belonging to an international Group.
With regards to this project the Chairman of the Board and CEO Mr. William Papadopoulos said: "Following the recent completion of a new investment in Tissue Roll Converting with the installation of a new Perini line for consumer products, MAXI has ordered a complete new Tissue Plant from Recard S.p.A, the supplier who already delivered two successful turnkey plants in Katerini in 2006 and 2010 and that we are willing to entrust again with this milestone project."
The new production line will be installed at the Katerini factory, where MAXI PM1 built by Recard has already been in production for some years
The new turnkey plant includes a Crescent Former Tissue Machine which will produce 115 tonnes/day and reach a speed of 1,850 metres/min.  With this new production plant, the Greek company will increase its total production from the current 28,000 tonnes per year to approximately 68,000 tonnes.
The turnkey plant includes 3 stock preparation lines for long, short fibres and broke/rejects from the converting area.
The delivery scope also covers all machine auxiliaries, including the latest generation of recovery boiler and a top performance 4-ply hydraulic Rewinder.
In terms of services Recard will be responsible for all plant engineering, project management, goods transportation till mill site, full mechanical and electrical installation, plant commissioning, machine start up and post start up baby sitting.