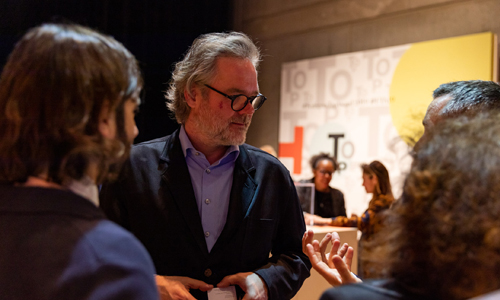 A tremendous showcase of ideas to fuel new visions and inspire further creative work – especially in this peculiar time when the global crisis requires taking new paths and proving agility and imagination. An opportunity to bring together the most interesting and innovative international works in the fields of packaging, corporate communication, graphics and publishing that have been printed from July 2018 on the special papers branded Fedrigoni and Fabriano and on the adhesive materials for labels by Manter e Ritrama. That's the Fedrigoni Top Award, now in its 12th edition.
"An event that anyone who loves beauty cannot miss – says Chiara Medioli, Vice President, Fedrigoni Group -, but also a 'tool of the trade' for those who wish to keep themselves up to date, assess unprecedented solutions and innovative materials, discover opportunities and search for trends to continue improving while caring for the environment". In fact, a third of the works that have already been submitted fall into the self-adhesive labels for wines and spirits category, demonstrating that this segment, where Fedrigoni is the world's leader, is rapidly expanding.
The international contest, launched in January, has now a worthy add-on with public voting: finally, since a few days, the dedicated page on the Fedrigoni website is open to the community of enthusiasts and graphic industry professionals wishing to participate to the final evalutation of the works that will be submitted by the deadline of June 30. The community jury will complement the international jury, composed, like in all previous editions, by a panel of design and communications experts.
This is a further incentive for graphic designers, refined prints enthusiasts, creative professionals looking for ideas and innovative solutions and anyone who loves beauty at its highest expression to glance through the hundreds of works submitted on the website www.fedrigonitopaward.com/competing-projects/ and give their thumbs up to their favorites through the "like" button. The public can vote through year end and the project that will result the most appreciated by the public will be displayed with the other winners and accessible online.
The contest – aimed at celebrating the value of paper in devising and designing all types of editorial and packaging products, from art printing to coordinated image mockups –– is addressed to designers, printers, publishers and final customers who will have realized their paper works between July 2018 and June 2020.
Submitting a project is very simple thanks to the dedicated page www.fedrigonitopaward.com/add-project/ where applicants will be guided step-by-step to filling in a specific form.
The competing works will be divided into four categories: Publishing, dedicated to Gianfranco Fedrigoni, that includes books, volumes, magazines, and art editions; Corporate Identity, spanning from catalogues of products and services to coordinated paper, from calendars to diaries, from wish gift and invite cards to paper crafts for exclusive gifts; Labels, that includes high-end wine, spirits and food labels; and Packaging, dedicated to boxes, cases, shopper bags, displays for shops.
So far the largest part of the submissions is composed of self-adhesive labels, many of which are very sophisticated creations made with the Tintoretto paper. Also, a good percentage of submissions is represented by refined high-end volumes and art catalogues printed on Arena, the white and ivory papers and boards range launched by Fedrigoni in September. On the other hand, many packaging projects have selected Materica, a softer and more tactile paper, in natural colors.
The jury of experts will be composed by five top international specialists: Simon Esterson, chairman of the jury and art director of Pulp and the British periodical Eye Magazine; Frank Goehrhardt of Taschen, a successful publisher of highly coveted books; Min Wang, who teaches at the China Central Academy of Fine Arts; Ivan Bell of Stranger&Stranger, a world expert in labels for the spirits industry; and Juan Mantilla of KIKO Milan, who specializes in design and packaging production for the beauty industry. The jurors will evaluate the submitted projects based on the originality of the graphic design, functionality, precision of execution and appropriate use of the papers from the brands of Fedrigoni SpA.
The evaluation will go through several ballot phases; the winners will be announced next spring during the opening ceremony of an exhibition in Paris, where the creations will be put on display. Besides receiving a symbolic trophy, the most interesting works will be included in a catalogue that will be distributed on a global scale. The jury reserves the right to assign a special award, created in collaboration with HP, to the best work realized with a digital print technology.