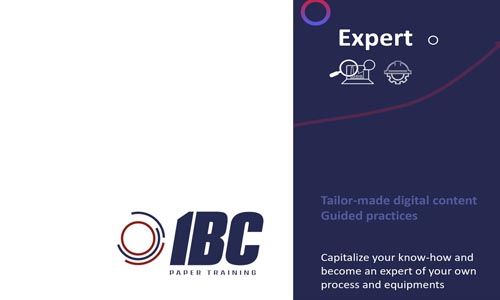 The Expert© solution  launched by IBC Paper Training is a new service to address specific needs of the pulp & paper manufacturing plant and their industry suppliers, to secure the transfer of knowledge and know-how through a cost efficient manner and  over time.
The Expert© solution is a tailor-made service which allow a full immersion into the process, equipment's, work instructions, all provided on demand, resulting in a complete digitalization of the know-how. The result is delivered into a digital and interactive product support, which may serve specific training purpose for both manufacturing plants and industry suppliers with high pedagogy orientation level to guarantee efficient knowledge transfer without the disadvantage of a costly and poorly engaging classroom training.  Therefore, the customers of this innovating service become owner of this tool fully custom-made, in order to support their initiative to raise their employees competencies or for the suppliers to have an efficient know-how transfer of their product or equipment.
Such service offered by IBC Paper Training, represents a solution for instance to prevent critical manufacturing knowledge to be lost but also empower current crews and technical staff to improve their skills for process troubleshooting and continuous improvement,  having as support the training material their own process an equipment features in  order to leverage the machine and the plant efficiency. For the suppliers of the industry is a breakthrough to support their commissioning service in a much more cost-efficient manner.