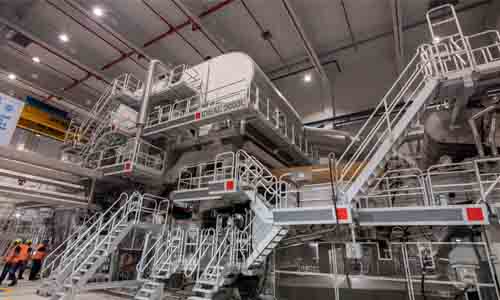 The A.Celli tissue line has been successfully started up at Intertrade Hellas plant in Inofyta, Viotia (Athens), perfectly in line with the contract timelines and with great satisfaction for both companies.
The A.Celli turnkey tissue line delivered to the greek company Intertrade Hellas has just produced its first jumbo roll, on time and with the expected speed and product quality.
The line was developed to produce top–quality tissue paper from virgin fiber, taking into consideration Intertrade Hellas' specific request in terms of layout and desired production capacity.
The supply includes the following solutions:
Stock preparation

line

A.Celli iDEAL

®

Master 2000L ti

ssue machine

with web width of 5600 mm,

design speed of 2100 mpm and working speed of 2000 mpm

16" Forged Yankee Dryer,

with a width of

6085 mm

5600 mm wide

three

–

ply E

–

WIND

®

T200 slitter rewinder

, with a speed of 1800

mpm

R

–

WAY

®

automatic

reel

handling

sy

stem

composed

of

conveyor

belt,

wrapper, up

–

ender and labeling system.
A.Celli also provided its exclusive designed DCS process control system and an Industry 4.0–ready automation platform, developed to integrate the numerous systems implemented in Intertrade Hellas' plant.2
The tissue line is expected to reach a production capacity of 244 tpd or 221 tpd, respectively for tissue paper with basis weight of 20 gsm and 16 gsm.
"The A.Celli iDEAL® Master 2000L combines high efficiency and superb tissue quality with minimum energy consumption. Over the last 2 years A.Celli has been proven a valuable partner in every stage of the process. We are indeed very happy with our decision: A.Celli fulfils the highest standards in Tissue machines" says Ioannis Delidimos, CEO of Intertrade Hellas S.A.

Alessandro Celli, member of the A.Celli Paper Board of Directors, says: "This project started in full spirit of collaboration with Intertrade, defining all the guidelines together. The successful start–up of the supplied line, which includes our exclusive forged Yankee Dryer, an automatic reel handling system and innovative Industry 4.0 solutions, is the result of the excellent collaboration between our two companies and trust placed by Intertrade in our know–how and technology"