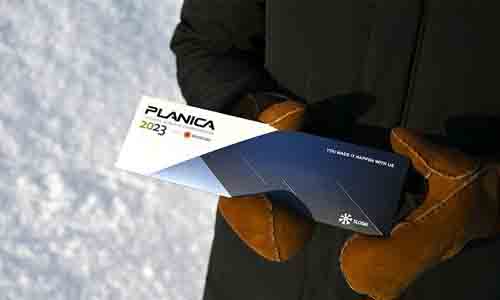 As the presenting sponsor of the FIS Nordic World Ski Championships in Planica, Slovenia taking place between 21 February and 5 March 2023, Stora Enso will provide wood-based renewable and recyclable products and innovations to contribute to a world-class sustainable and climate-friendly event. 
"The ski championships in Planica will reach a total audience of around 450 million people, enabling the opportunity to promote Stora Enso's renewable materials while demonstrating that people can make real carbon reductions in their everyday choices. In addition to contributing renewable products and solutions at the games, we engage with the local Planica community to make a difference when it comes to awareness around sustainable sporting event actions," says René Hansen, Stora Enso's EVP Brand and Communications.
Stora Enso is Supporting Green Planica 2023 with eco-friendly products
Stora Enso will also support the Green Planica 2023 commitment through its renewable products designed to replace plastic and other fossil-based materials. Eco-friendly products used at the games by athletes, volunteers, media, and event staff include wooden podiums and building materials for the arenas, drinking cups, catering trays for volunteers, and 3D-printed bio composite furniture for the VIP area, all made from renewable and recyclable materials. Moreover, flowers in the medal ceremony will be replaced by spruce seedlings, devoted for planting in growing forests.
Sustainability engagement with the local community
Stora Enso will support the local community in Planica with two activities; supporting spectators with their walk from Kranjska Gora to Planica to advance sustainable mobility, and promoting a local competition between 21 schools on how to become an environmentally friendly fan at sports events. Both actions are taken together with the Planica organizing committee.
Long-term commitment
Stora Enso has committed to long term sponsorship support of the FIS Nordic World Ski Championships. Planica 2023 marks the fifth time the Group will sponsor the championships, having served as presenting sponsor for the 2021 event in Oberstdorf, Germany, 2019 in Seefeld, Austria, and 2017 in Lahti, Finland, as well as being the main sponsor in Falun, Sweden in 2015. Stora Enso will also be the presenting sponsor Trondheim, Norway 2025.
For more information about Stora Enso's presence in the FIS Nordic World Ski Championships in Planica 2023, visit:
Stora Enso in Planica 2023