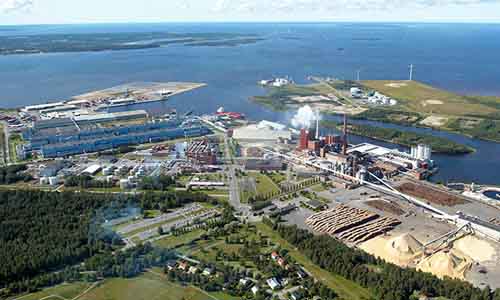 Stora Enso has entrusted the leading full-line supplier Voith with the conversion of a former paper machine. The machine at the northern Finnish site in Oulu previously produced coated graphic papers. After the successful conversion, the machine will produce high-quality folding boxboard and coated kraft back (CKB). With a production volume of 750,000 tons per year, the plant will be the largest board machine in Europe. Start-up is scheduled for early 2025.
It was important to Stora Enso that the converted line offers optimal production efficiency while meeting the highest environmental standards, especially excellent heat recovery. With the converted line, the company can achieve the highest production capacity in Europe for high-quality packaging made of folding boxboard and CKB.
"We are very pleased that Stora Enso has chosen our full-line solution," says Dr. Michael Trefz, President Projects at Voith Paper. "The order builds our existing partnership with Stora Enso further. After the conversion, the board machine will be a high-tech plant with the latest standards to produce high-quality board packaging."
To achieve the high production volume, Voith together with Stora Enso developed a tailor-made concept that maximizes both efficiency and sustainability along the entire paper machine. The scope of supply includes a new, three-layer wire section with the DuoFormer D II. The high-performance Triple NipcoFlex shoe press concept will enable maximum production output at the highest quality level. At the same time, the efficient technology will minimize specific energy and production costs. The machine will also feature maximum flexibility and top product quality thanks to a SpeedSizer system and four DynaCoat AT coating units with JetFlow F applicators. The SpeedSizer as well as the DynaCoat AT are partly made of carbon fiber to ensure stable cross sections at all grades and speeds. In addition, Voith's bulk-saving EcoCal HiBulk calender will provide excellent stiffness, outstanding smoothness and printability.
For ideal energy efficiency, Voith experts are also extensively rebuilding the existing dryer section. The high operating dew point of up to 65°C in the EcoHood 65 dryer hood lowers the supply and exhaust air volumes and thus reduces power and steam consumption. The CombiDuoRun drying concept efficiently dries the web on both sides, preventing curl even at high operating speeds. Finally, two VariFlex Performance winders will be installed. In addition, Stora Enso relies on Voith's leading digitalization and automation expertise. Thus, Voith will implement the OnControl.Machine MCS for the automation of the board machine, the OnQuality quality control system, and the OnCare.Health condition monitoring solution. The dataPARC cloud serves as the IIoT platform.