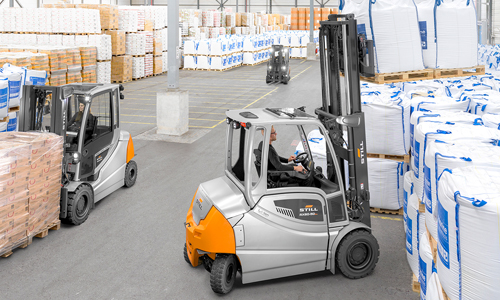 Whether for industry (food, automotive, glass, wood, etc.) or paper, etc., forklift trucks must withstand heavy loads in difficult environmental constraints (dust, humidity, cold, etc.). The strengthening of standards and directives limiting polluting emissions is pushing companies to turn more and more to the use of electric forklifts. In order to respond to this challenge, STILL has just launched the RX60 with a capacity of 3.5 to 5.0 tonnes to transport heavy loads both indoors and outdoors, with the power of a thermal and the advantages of electric.
During a webinar conference on October 12, STILL presented the latest member of the RX 60 family and wrote a new chapter in the history of electric forklift trucks in its anniversary year. In addition to its agility, manoeuvrability and high driving comfort, the compact 80 Volt electric forklift truck impresses with its outstanding handling performance and high availability – and all this without exhaust fumes.
Within the series, seven different vehicle variants are available to customers with a load centre of 500 mm as standard, or 600 mm upon request. Furthermore, both lead acid batteries and lithium-ion technology are available. A high-performance variant is available in all weight classes, which excels in demanding application profiles with even more handling capacity, more power and acceleration.
The RX 60 is not only lively and 20km/h fast, it also has great stamina. No matter what the application, you can rely on its availability. This is due to the quick start mode and the automatic spring-loaded parking brake, but also to the intuitive STILL Easy Control on-board computer. This enables the truck to be ready for operation in a matter of seconds and the driver immediately has a clear and convenient overview of all relevant performance functions and truck information.
Thanks to its low consumption and a battery capacity of 930 Ah (59.5 kWh), or up to 118.4 kWh in the Li-Ion version of the RX 60-50, the power pack can easily cope with two shifts in a row without interim charging. And when it is time for a battery change, the now proven lateral battery door literally opens up new perspectives. The 4 mm thick steel door of the RX 60-35/50 can now also be easily opened 180 degrees to the rear, and the battery can be changed by just one person using an electric pallet truck, saving space, time, energy and resources.  Optionally, an integrated built-in charger provides even more flexibility for quick and easy interim charging during work. The RX 60-35/50 also benefits from the successful concept of the RX 60 series in terms of comfort and safety.
With the RX 60 with a load capacity of up to 5 tonnes, another segment of the forklift truck market is now given the opportunity to consider electric forklifts in their energy management and to benefit from their numerous advantages overall.