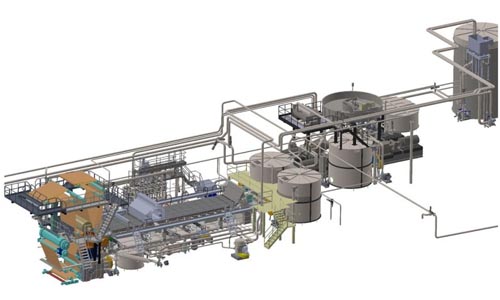 ST Macchine received an important order for the project of paper machine modification at Cartiere Ermolli Spa located in Moggio Udinese (Italy), a paper mill specialized in the production of papers for the food sector, such as wrappers, packaging, polythene, printable papers and ones with superior technical characteristics such as a high degree of transparency.
Stock preparation:
High Density Pulper PAD 21 m3.
High Density Cleaner DPD30/A.
Set of chest and tanks equipped with agitators.
Water treatment:
Dissolved Air Flotation unit Superflot CFR-5500 SJ complete with Pressurizator PRV0,6.
Approach flow circuit:
3 stages of Low Density Cleaners DPL500 with last stage equipped with automatic junk trap.
Primary Screen SPC20.
Dilution Water Screen SPC08.
Paper Machine:
Hydraulic Headbox Performance model equipped with Dilution for basis weight profile control.
Fourdrinier with cantilever structure.
Under Machine Broke pulper for couch pit.
Under Machine Broke pulper for film press.
White water channel and silos.
Engineering:
Detailed engineering for the installation of the equipment and manufacturing drawings for water, stock and vacuum pipe lines.