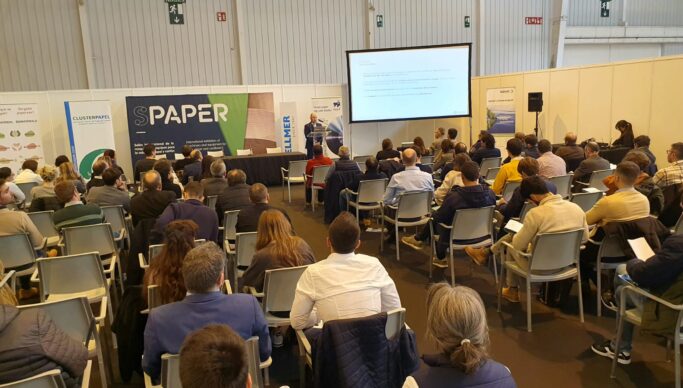 Organised by Feria de Zaragoza in parallel with Smagua, the well-established  international water exhibition, the 3rd edition of Spaper is taking place this week in the capital city of the Aragon province and the home town of the SAICA Group. The event was inaugurated yesterday in present of the city mayor and other local officials.
The exhibition floor welcomes around 30 booths with more than 100 companies represented. The six major representation agencies of the country are present this year to display the latest technologies of their principals. Ferpal, Daukat, Porteca, Celpap Equipos, BTF System and Igcar have on their stand experts from countries like Finland, Germany, France, Japan and Italy to help paper makers get answers to their production issues. The big four (Valmet, Voith, Andritz and Bellmer) have the most prominent booths and ABB has its impressive demo truck on site.
Spanish suppliers are obviously participating, like IDM Test (testing equipment), Okobio/Safem (vacuum pumps), Industrias Moreo (conveyers), Alphachem (chemical air filtration) and Drukatt (3D printed components).
The conference programme is mainly proposed by the association Cluster del Papel de Euskadi who proposes a technical forum with presentations from Lantier, Bellmer, Afry, Voith and many others around the topics of sustainability and  process optimisation.