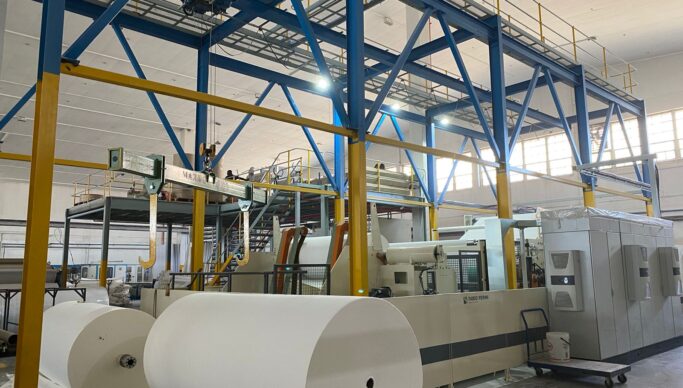 The global pandemic has profoundly impacted the tissue market on a global level and, even in the South African market, retail tissue recorded a value increase of 8% in 2020, compared to 3% growth in 2019. (* Euromonitor data).
To meet this need, Nova Papers, one of the biggest tissue production companies in South Africa characterized by a strong eco-sustainable vocation, needed to increase its efficiency and productivity, dedicating an entire line to the creation of products that respect the environment, but which still have an excellent quality-price ratio.
The strategic answer to these requirements was Perini MySyncro with Aquabond technology. Nova Papers comments: "Our aim was complex: on the one hand we wanted to preserve our environmentally responsible values to differentiate ourselves on the shelf, on the other we had to consider costs. By relying on Körber's integrated solutions, we were able to meet both of these requirements."
Sandro Magnani, Sales Manager for the Business Area Tissue, adds: "Perini MySincro is the best solution for producers who want both high quality and technology at an excellent price. MyPerini Converting lines align Total Cost of Ownership (TCO) and best Overall Equipment Effectiveness (OEE) by getting products to market efficiently. Pre-configured and ready to run, these machines are world-class performers with streamlined, optimally priced tissue manufacturing process customization."
Perini MySincro manufactures toilet and kitchen rolls with diameters up to 160mm at a maximum speed of 450m/min and 30 log/min output. Based on our Sincro exchange phase system, this line is equipped with a laminator-embosser featuring 409mm diameter steel rolls to deliver high quality glued products.
The line is also equipped with Cantilever which allows you to change the format of the cliché roll in 10 minutes. This is extremely important for customers who have two paper formats; the standard version requires 2 to 3 hours of downtime.
Nova Papers concludes: "The new line has allowed us to increase our converting capacity by + 50% and thanks to Aquabond we have managed not only to improve the final product, making it more eco-sustainable for the consumer, but we have also saved on raw materials such as glue ".
Aquabond is sustainable and efficient water-laminating solution. The chemical adhesives that are normally used, in fact, are based on vinyl and nonrenewable raw materials. By eliminating them from the production cycle through Aquabond it is possible to pursue the philosophy of eco-sustainability, one of the key points of Nova Paper's development.
Aquabond also impacts the line's efficiency and the manufacturer's costs, eliminating those for the glue in embossing.
This type of embossing eliminates the problem of adhesion and winding of the paper on steel rollers. The anilox and the cliché rolls, the doctor blade unit, and the embosser remain clean, and continuous stops to the entire line to carry out cleaning and lubrication of the rollers are avoided. All this has led to a productivity advantage quantifiable in 5 percentage points of machine efficiency.