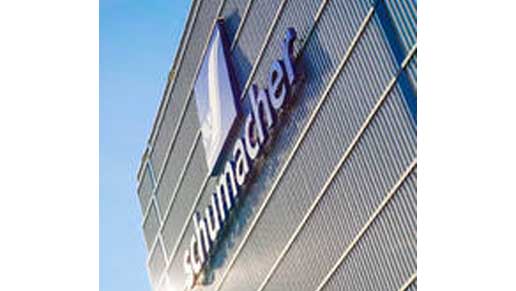 In 2018, the Schumacher Packaging Group, one of the biggest independent and family-run manufacturers of packaging solutions made from corrugated and solid cardboard, increased its sales once again. Compared to the previous year, there was a growth in sales of over 6 percent – to the current figure of 627 million euros. The number of employees also climbed to more than 3300.
 "Price before volume" growth principle
Björn Schumacher, Managing Director of the Schumacher Packaging Group, explains, however, that the increase in sales had not been the central objective for the past year at all: "In 2018, the packaging sector once again had to cope with a very difficult environment – increasing raw material prices for paper caused a drop in revenue and a major shortfall. Our motto was therefore "price before volume". We are not unhappy, of course, that in spite of all this, we were able to achieve a considerable profit," continues Björn Schumacher. "However, the revenues in the sector have not been at the level they should be for some time now. The increased costs in all areas still require strict price discipline."
 The new Greven plant – a success story
One of the driving forces behind the positive sales trend in the past year was the very pleasing development in the corrugated cardboard plant in Greven. Schumacher Packaging had built the brand-new production facilities in the Airportpark at Münster-Osnabrück Airport in 2014. Since the plant opened, the packaging specialist has made further investments costing tens of millions of euros and doubled the production capacity there. "In 2018, Graven was the only place where our sales increased by more than 20 percent," reports Schumacher. "But we also made a profit in all other markets – whether in Germany, in our Polish plants or in the Netherlands."
200 million euros – even for less dependence on raw paper material
Schumacher Packaging has set the course for further growth. "Our investment strategy for the next four years totals 200 million euros," explains Björn Schumacher, "more than 50 million of which has been earmarked for this year." A significant portion of the sum will go into technological innovations at all sites. The family business is also pursuing strategic objectives with its investment programme. "Greater self-sufficiency in the supply of raw materials is particularly important to us," explains Schumacher. In Myszków, Poland, the group took over a paper plant at the end of 2016 to convert it to recycled corrugated base papers. "Production began there in March, and in a few months, our plant will have taken the first step towards reaching a production capacity of around 150,000 tons, and later, in a second step, 300,000 tons per year," explains Schumacher. "Together with the plant in Grudziądz, the total figure will be over 400,000 tons." Growth plans are thereby yet to be finalised: "Beyond these investments of 200 million euros in existing sites, we also want to press ahead with our expansion by acquiring additional companies."
Mass volume digital printing ready for mass production
Schumacher Packaging is recognised as a leader in productivity and technology in the packaging sector. For example, the company was the first in Germany to use modern mass volume digital printing on an industrial scale. The benefits of modern printing technology for high print runs are that it combines speed with high-quality, multicoloured print images almost in offset quality. This makes digital printing faster and more environmentally friendly than flexo printing because no printing blocks are needed. It is also possible to randomly vary the print images, up to the individual printing of each individual item of packaging. "The machine prototype, which we have tested and perfected in an industrial setting in Ebersdorf in collaboration with our technology partner Durst, will be ready to go into mass production this year. Then we will install digital printers in yet more sites." Björn Schumacher reveals: "We now have the next rung on this technology's evolutionary ladder in sight."
 CargoPropal pallets – as light as paper, as sturdy as wood
The material innovation CargoProfil is now being put into mass production at Schumacher Packaging too. CargoProfil is a wood profile made from twisted corrugated raw paper, which combines the stability of wood with the light weight of paper and is 100% recyclable. Since the cover frames from the material were initially available under the name CargoProtop, the new CargoPropal pallets are now also ready to go into mass production. "We have now concentrated the mass production of both products made from CargoProfil in our Czech plant in Nýrsko," explains Björn Schumacher. Due to their light weight, the new CargoPropal pallets pose a very interesting alternative to traditional wooden pallets. "A CargoPropal can be handled and loaded like any traditional Euro pallet," explains Schumacher. "It is just as stable, but has a distinct advantage: Instead of the 28 kg that a traditional wooden pallet weighs, they only weigh 7 kg." Unlike wood, the paper profile doesn't require any pretreatment, is hygienic and is therefore ideal for transporting food products too.
The forecast – no easy environment for 2019
Asked about his economic forecast for the current year, Björn Schumacher definitely envisages risks for the packaging sector: "Economic cooling is one factor. We could also be occupied with Brexit and its consequences, as well as the trade dispute with the USA," says Schumacher. A growing protectionism could impact on customers' business, thereby suppressing the demand for packaging. However, the trend for Schumacher Packaging so far was definitely pleasing. "Our first few months of 2019 were better than the same period last year. In all our plants, current capacity utilisation is very good to excellent – we aren't observing any slump in demand," concludes Björn Schumacher. "Even though growth has decelerated somewhat."