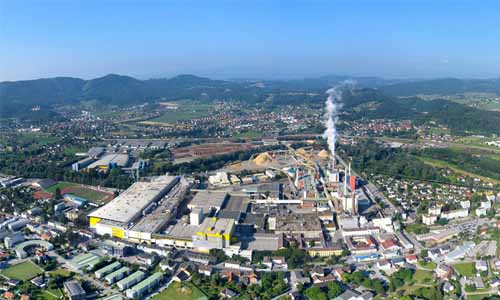 On course to further strengthen its leadership in the label sector, packaging and speciality paper manufacturer Sappi Europe is set to extend its capacity at its mill in Gratkorn, Austria, enabling the mill to also manufacture wet-strength label papers. The double-digit million-euro investment in a state-of-the-art technical infrastructure will drive expansion of the site – and establish Sappi as a leader in the label sector for the long term.  
Innovation through investment: expansion of the Gratkorn mill's technical infrastructure
Increased demand for high-quality label papers
Guaranteed production and delivery reliability
Speciality paper manufacturer Sappi has been offering a wide range of label papers for many years. They stand out with their premium quality and, together with excellent customer service, guarantee a high level of production and delivery reliability through Sappi's partner companies worldwide. The company recently announced that it will be making a significant long-term investment to further strengthen its label paper business. As of the end of 2023, production capacities for label papers will be extended at the Gratkorn mill in Austria. The double-digit million-euro investment in technological innovations, such as a new embossing calendar, will enable the modern paper mill to produce high quality wet-strength wet-glue label paper. With this portfolio extension, Sappi will further strengthen its market leadership in label paper production.
Marco Eikelenboom, CEO of Sappi Europe, explains: "Our investment at Gratkorn underscores our strategy to establish Sappi as the leader within the label sector, adding to the supply of value adding products across our entire business."
Innovation through investment
Sappi has invested recently in new technical equipment and state-of-the-art production facilities at its Gratkorn site – ranging from paper machines to formatting equipment – and has transformed the production facility into a cutting-edge paper mill. With the further expansion of the mill's technological infrastructure, the production of label papers will be extended (in addition to all existing graphic papers) and product innovations will be driven forward. Extensive technical innovations in the paper machine's water and material cycles are planned, as well as investment in a new embossing calendar. This is key to producing the kind of wet-strength, wet-glue label paper used in the beverage industry, for instance on returnable beer bottles, and to enabling the production of exceptional, high-quality labels.
In tandem with many years of expertise in producing coated papers, these technical innovations will firmly establish the ideal prerequisites for a wide range of first-class products.
 Guaranteed production and delivery reliability
To ensure 100% continuous availability and fast delivery of its premium label papers to its partners, Sappi has been proactively positioning itself for the future. With its European mills in Alfeld (Germany) and Carmignano (Italy), as well as in Somerset (USA), the course had already been set for secure production and seamless supply chains. Now those mills are supplemented by Gratkorn, one of the largest and most modern paper mills in Europe – to ensure the higher capacities and supply reliability the market demands now more than ever. Thanks to the central location of the Gratkorn production site, transport distances are short, which saves energy and reduces environmental impact. At the same time, more effective, shorter production cycles ensure fast delivery and even more flexible response to customer requirements.
Successful label paper product launches
In mid-2021, Sappi expanded its product portfolio of non-wet-strength, wet-glue label papers with the new Parade Label Pro – ideal for many different applications, such as standard labels for bottles, tins and jars, as well as wrappers for various products. It was specially designed for the production of wet-glue labels of various products and has been very well received by the market from the start. In January 2022, this was followed by Parade Label SG, a high-performance, semi-gloss face stock paper for self-adhesive labels for a wide range of applications – such as food, non-food, beverages, health and beauty care products. Today, this product is also firmly established in the market.