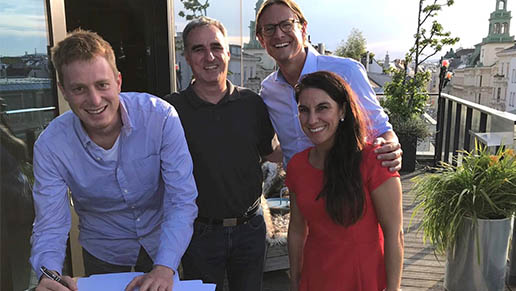 Sappi and PerfectPattern signed a global strategic alliance in an effort to roll-out AI driven dynamic print planning and ganging technology to print businesses worldwide.
The partnership aims to enable offset and digital printers the opportunity to make significant savings in paper waste, plate consumption and production time. The SaaS-based offer utilises PerfectPattern´s sPrint One technology.
OctoBoost is Sappi´s internal startup which develops innovative digital solutions for the print industry, well in-line with Sappi´s commitment to improve printers´ business and ultimately make print more efficient, attractive and sustainable.
Perfect Pattern GmbH is a Munich based company which creates industrial Artificial Intelligence solutions, using Reinforcement Learning, intelligent prediction models and other AI technologies to control and optimize industrial production processes.
Sappi´s first digital product, OctoBoost, was launched in October 2018 in Central Europe and further rolled out to the Benelux and Nordic markets this year. Based on the e-commerce platform Magento and sPrint One it combines future-proof online print with powerful dynamic planning and ganging technology. It also provides insightful metrics through print intelligence dashboards.
For those printers who are already advanced in the online print journey and need no web-to-print solution, Sappi has launched OctoSprint: The technology will be distributed exclusively by Sappi & the OctoBoost team through a flexible SaaS model.
Significant savings, higher productivity
The technology is compatible with all digital and offset printing machinery. It has proven to reduce paper waste (by up to 50%), plate consumption (by up to 40%) and increase print capacity (by up to 22%), while automating pre-press and planning efforts. Average net savings are up to 5% of a print house´s revenue.
"Sappi and PerfectPattern´s enhanced partnership is a natural match", says
Anna María Oñate, CEO and Co-Founder of OctoBoost. "Both companies are passionate about print with the ambition of transforming the industry through further co-developing print automation and efficiency technologies."
"Manufacturing companies in all industries need to optimize their competitiveness – and Artificial Intelligence can unlock significant potential for value creation in industrial production", says Fabian Rüchardt, CEO of PerfectPattern. "We are very pleased to extend our partnership with Sappi OctoBoost to enable the printing industry to take advantage of the benefits of artificial intelligence for their business in an straightforward manner."