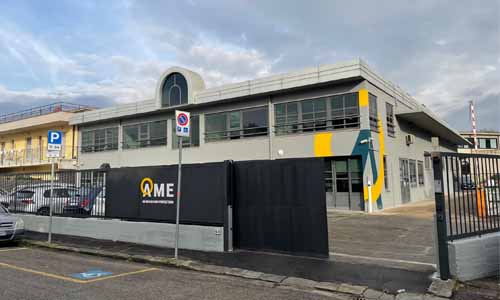 AME has set a new benchmark in safety. Its comprehensive, yet easy to install, solutions are aimed at not only reducing incidents on site but also increasing operational efficiency. The company's goals are to make accidents a thing of the past while adding value to the business rather than the usual overheads associated with safety protocols.
"Our solutions, like EGOpro Safe Move, offer a 360-degree detection system, ranging from pedestrian to machine-to-machine, by collecting and processing data in real-time, allowing for accurate and timely analysis of efficiency and safety in your plant or construction site," comments Filippo Bonifacio, CEO, and co-founder at AME. "Their effectiveness in preventing on-site collisions, optimising safety, and increasing working efficiency has been widely recognised, and we are seeing tremendous growth as a result."
AME solutions create a smart, real-time, hazard warning environment that immediately interacts with robots, automated machines, AGVs, vehicles, and forklifts. AME offers cloud-based safety platform that analyses and processes data and real-time information to prevent collisions. It can be applied across wide range of applications, including tunnelling, construction, intralogistics, warehousing, and other industrial facilities. Its new headquarters comprises a 1,400 m2 facility developed over two floors with large, open spaces and windows to provide abundant natural light. The site has been carefully designed internally and externally to deliver a comfortable, user-friendly environment that promotes innovation and collaboration and that represents the DNA and values of the AME brand.
AME was co-founded in 1999 in Florence by Claudio Salvador and Filippo Bonifacio. Today, alongside its new headquarters, it has its presence in both Germany and Virginia, USA. Its solutions are utilized by over 1,200 customers in more than 22 countries.
The new Florence headquarters has doubled AME's production floor area by 400 m2 to meet the growing demand for its systems. It is situated alongside an expanding research and development area, which will enable the business to continue to push the boundaries of safety technology and deliver cutting-edge solutions to their customers.
Bonifacio continues, "Our presence in the USA, established at the start of 2023, represents the major growth in safety systems in this region. The American market now accounts for 10% of our global sales and includes clients such as Smurfit Kappa, Dow Chemical, and International Paper. Supporting customers in real time is a key element to our business, and we will continue to invest in local sales, technical, and support services in this region to reinforce the growth we are experiencing."
AME's growth in the USA follows its success in opening a facility in Germany, which, in just two years, has already established sales of over €2 million. The company ended 2022 on a strong note with sales up more than 40%.
"We are headed in the right direction and are excited about the future and how our technology can help prevent onsite collisions. We are passionate about safety and, I believe, our systems will change the approach to this crucial aspect of working environments forever," concludes Bonifacio.