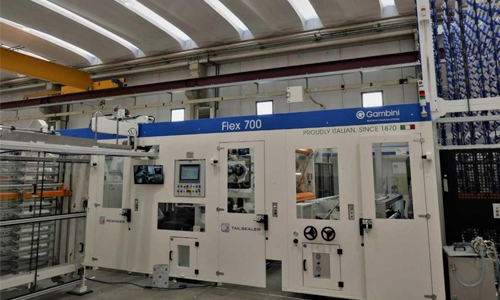 Gambini America is proud to announce that Royal Paper Converting, Inc. is taking delivery of its fourth complete Gambini line, a Flex 700 Swing rewinder line. The line will soon be installed and started-up at Royal Paper's Arizona-based facility.
The Flex700 is Gambini's top-level line for making consumer products; beyond its speed of 700 m/min (2,297 fpm) and 60 logs/min, it features one of the most game-changing pieces of machinery ever introduced in the converting industry: the TouchMax.
TouchMax is Gambini and Gambini America's offering of innovative and flexible embosser/laminators. The TouchMax family is comprised of TouchMax, TouchMax.Large and the new TouchMax.Twin, with a dual set-up of automated Point-to-Point and Point-to-Flat configurations.
With its three manufacturing facilities and over 1.3 million square feet of fully integrated production and distribution space, Royal Paper has rapidly become one of the leading privately- owned tissue paper converters in the Western United States.