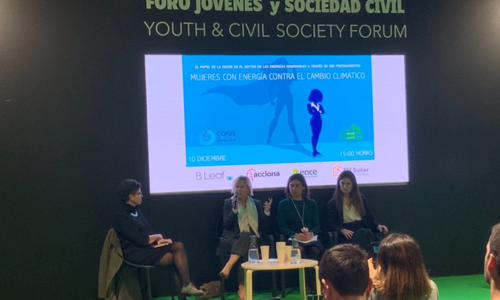 Reyes Cerezo, General Secretary of Ence, participated yesterday in a round table in the framework of COP 25 under the title of "Women with energy against climate change". This initiative sought to give visibility to the role of women in positions of responsibility in the context of the energy transition in Spain, and to highlight those capacities and strengths that bring them closer together to make companies more competitive and resilient.
During his speech, Reyes Cerezo presented Ence's equality objectives, focusing on the company's commitment to hiring and promoting women within the company, managing to increase by 11% the female presence of staff respecting the year previous. In addition, he placed special emphasis on increasing women in positions of responsibility, such as production managers in independent power plants, quality and environmental managers, security chiefs or project engineers.
He also stressed that parity is an aspect of special relevance for Ence, since this initiative was not only applied to women of the staff but also in the Board of Directors, where in just two years the female presence increased by 7% to 29%, in line with the recommendations of the Code of Good Governance of the CNMV.
The United Nations Framework Convention on Climate Change, better known as COP25, now reaches its twenty-fifth edition. Currently, more than 200 countries are members of this convention, where representatives of companies, international organizations, interest groups and associations also participate.
This year's edition was particularly relevant, as it constitutes the last meeting to activate the Paris Agreement, conceived as the first binding global pact in defense of the planet's climate, which will be fully in force in January 2020. Thus, The COP25 seeks to boost guarantees to implement it with the entry into force of the measures at the national level