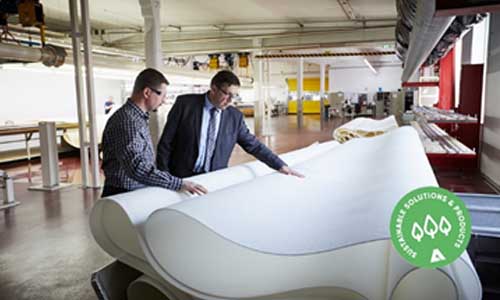 In the production of press felts for paper machines, considerable amounts of high-quality plastic are produced as residual material. ANDRITZ is now closing the loop and recycling some of it back into production.
Press felts are an important consumable in paper production. The felts, which can be up to 115 meters long and up to 10 meters wide, transport the paper through the press section and discharge the water pressed out. Paper mills consume large quantities of press felts because they have to be replaced regularly, usually after only a few weeks of use.
State Award for Environmental Technology
in 2018, ANDRITZ participated in the "Tex2Mat" research project together with universities and other companies from various fields, with the aim of developing new processes for recycling of multi-material textile waste. The first result is the recycling of polyamide blends that has now been realized. The "Tex2Mat" project was awarded the Austrian State Prize for Environmental and Energy Technology last year.
From residual to recyclable
Press felts consist of up to three types of polyamides, for which there is currently no process that can separate them into homogeneous fractions again. In the research project, ANDRITZ engineers investigated how the polyamides can be further processed as a blend. The researchers found a way to produce high-quality monofilaments again from recycled polyamide waste. These monofilaments can be used as feedstock for press felt production. Extensive tests with press felts consisting of a mixture of virgin and recycled material also proved that these press felts meet ANDRITZ's strict quality criteria without restriction.
Production up and running
For several months now, ANDRITZ has been producing press felts consisting partly of recycled material. In the meantime, more than 50 such felts have been delivered to customers. It is now planned to increase the recycled content in certain parts of the press felt and investigate the potential in other areas of paper machine clothing as well, such as forming fabrics.
At the ANDRITZ site in Gloggnitz, Austria, alone, approximately 1,200 tons of press felts are produced annually. The production of semi-finished products (threads, fabrics) and trimming of the felts to the final size generates around 190 tons of residual material per year. Valuable material that can now be recycled and fed back into the production of new felts. This makes the product more sustainable – an advantage not only for the environment, but also for paper producers interested in sustainability.